Name: Keisuke Ueda
Batch: FY2017-3 (10 Jan. 2018-9 Jan. 2020)
Technical Field: Assistance and Education for Persons with Disabilities
Host Organization: Mua School for the Deaf
Hometown in Japan: Fukuoka
A Piece of Memory "Laundry at the Well"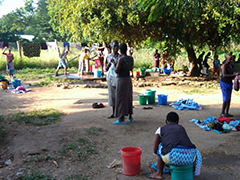 I wake up at five in the morning at the sound of students sweeping the garden with their brooms.
Since it was the dormitory of a deaf school, cleaning starts every morning at a fixed time. Hearing-impaired students are mainly living in this dormitory, so it is normally a quiet place. However, shattering sounds they made would disturb my sleep.
When I wake up in the morning and head to the well for laundry, students are already there, washing their clothes and bed sheets. When the students recognize me, they would say, "I'll wash yours, too." Malawi people have a habit of using a lot of detergent. Going out to the city to buy detergent when it runs out is a bit tiring, so I usually avoided their kindness and did my laundry on my own. That was my daily routine.
Ever since I did my own laundry here, my t-shirt that I brought from Japan changed its color from white to a dingy color, due to muddy well water and dust. I wore the t-shirt feeling depressed, and students came to ask me if they can wash my t-shirt. I accepted their offer, thinking "I don't think this stain will come off," but 30 minutes later, I was surprised to see the students turning my t-shirt back to white.
Now that I am back here in Japan, my laundry is done automatically just by turning on a single switch. While living in Malawi, there were things that I was so used to that I didn't feel anything at the time, but now I remember fetching water from the well, washing clothes on stones, using green soap, and washing clothes with my students... each of these things were nostalgic moments in my daily life.
Next will be Daiki Takemoto (Science Education) from batch FY2017-2.