Name: Daiki Takemoto
Batch: FY2017-2 (3 Oct. 2017-2 Oct. 2019)
Technical Field: Science Education
Host Organization: Lisumbwi Secondary School, Monkey Bay
Hometown in Japan: Kawaguchi City, Saitama
A Piece of Memory "Dear My Family in Monkey Bay, My Second Home"
"Mulibwanji?" How are you doing? It's been over a year since I returned to Japan. No matter how far away we are, I always care about amayi (mom), and my siblings Maria and Chewesi.
I was assigned to Monkey Bay in November 2017, which was midsummer in Malawi. Our home was a clean place near the school I was assigned to, but I was actually a little nervous living with you all. However, everyone warmly welcomed me. Abambo (dad) showed me around the town when I had no clue where I was. I was anxious because the people on the road looked at me and I did not understand the words they say, but you said, "This is my son Daiki. Please get along with him," and introduced me to the neighbors and the storekeepers. "If you have any problems, feel free to talk to me." I was very happy and reassured. We did not eat together at first, but soon we started to surround the dining tables together. The nsima that Maria and amayi cooked were fluffy and chewy, and it was a magical dish that I could not cook on my own no matter how much I tried. Oh, how I wish to go back to Malawi.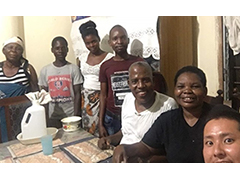 Every morning, the agalu (dogs) and nkhuku (chickens) in the garden sound their natural wake-up call before dawn. After a while, I hear the sound of a broom sweeping the dry ground. I wonder if Maria is bending down to sweep the ground again today. Maria, always cheerful, hums a song early in the morning as she sweeps. Waking up hot and sweaty in the morning, a cool shower of water feels good. When I got ready and went to the main house, I found cassava and tea with lots of sugar prepared for breakfast. Maria and Chewesi are busy cleaning and washing in the morning. Once the morning classes are over, I go back to the house. Lunch is waiting for me. "Do you have to work in the afternoon? You have to eat well," said Amai. When I returned home after my afternoon classes, Maria was cooking dinner. I couldn't join in the conversation between Chewesi and Maria in Chichewa, but I helped her with the dishes and set the table, and I was happy to feel like I was part of the family. After dinner, we would chat for a while in the living room, but I thought it would be best to go to bed early at night when there was no electricity. Looking up at the night sky, I would see a starry sky and the Milky Way. When I close my eyes, such memories still come back to me.
I will definitely return to Monkey Bay, my another hometown, one day, so please stay healthy until that day. Thank you for all the memories. Maria, Chewesi, and amayi, as well as abambo in heaven.
Next will be Asumi Tomita (Science Education) from batch FY2017-1.