Name: Ryosuke Shimizu
Batch: FY2016-1 (6 July 2016 - 5 July 2018)
Technical Field: Community Development
Host Organization: Mchinji District Community Development Office
Hometown in Japan: Kuwana City, Mie
A Piece of Memory: "Why I Returned to Malawi"
I worked as a community development member at Mchinji Province located in central Malawi for two years from July 2016. At my assigned destination, I visited the village groups and gave advice on savings and small businesses and held workshops to support the improvement of livelihoods of the residents.
I returned to Malawi right after I completed my two-year term as a member of JOCV. The main reason is that Malawi was a very comfortable place for me. Every morning, I shook hands with my colleagues and friends saying, "Mwadzuka bwanji?" (Good morning! How are you?), and whenever there was something interesting, we laughed and shook hands like high five. When I walked down the street, children would run after me, so I would talk to them, asking how they were doing at school, and would lift them up in the air. Adults would come up and say, "What are you doing? Why don't you come and eat beans and potatoes with us!" Thanks to these warm and friendly people in Malawi, I never felt lonely while living in this place for two years.
I am currently running a small printing company with my new colleagues in the capital city of Lilongwe. While struggling with problems unique to Malawi, I am enjoying my life in an environment where I can try new things every day.
However, with regard to daily life in Malawi, which I came back for, people are currently temporarily exercising self-restraint in order to maintain social distance due to the spread of COVID-19 infections. It has been almost five years since I came to Malawi, and I am now feeling a little lonely for the first time. I sincerely hope that daily life in Malawi that used to be filled with warmth and close distance between the people will return soon as possible.
The reason that I love Malawi so much is because of the relationship between Japan and Malawi that was built up by JOCV over the past 50 years. I pray for further development of the relationship between the two countries, and I would also like to do what I can do one at a time.
Next, I will hand my baton to Sakiko Hamanaka (Nutritionist) from batch FY2015-1, who worked at Kasungu, which is relatively close to Mchinji.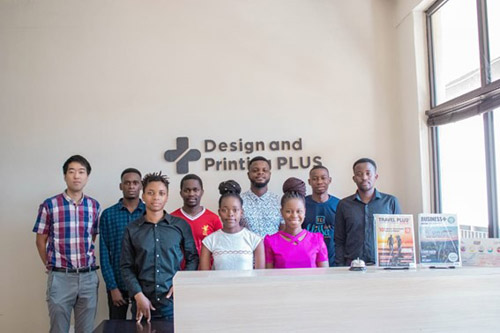 With the staff of the printing company