Name: Sakiko Hamanaka
Batch: FY2015-1 (6 July 2015 - 5 July 2017)
Technical Field: Nutrition
Host Organization: Kasungu District Hospital
Hometown in Japan: Nerima City, Tokyo
A Piece of Memory: "First Taste"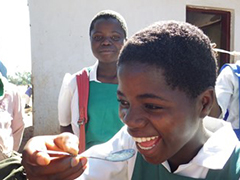 I used to live in Kasungu province, which is about 120 km up north from the capital city of Lilongwe. I was assigned to a hospital, but I sometimes worked with teachers at an elementary school nearby.
At elementary schools in Malawi, cooking classes, physical education classes, and art classes are often conducted in the classroom, making it difficult to conduct practical training. However, I thought that I might be able to do something with my experience and knowledge in cooking, so I discussed with the principal and other teachers of a nearby elementary school and decided to teach the students how to cook and give them recipes.
One day, the lesson theme was "Steaming," and we made pudding using egg, milk, and sugar. In Malawi, people steamed ingredients such as pumpkins, but students had never seen "steaming" when cooking. Therefore, I demonstrated in front of them how "steaming" works by using the things they can find at home.
Students handed their spoons they brought from home to the teachers, and they cautiously tried the pudding that the teachers scooped for them, starting with the those who had their spoons returned to them first, making sure that the pudding would not spill from the spoon. The photo below is the "smile" that spilled from the students' faces when they first tried the pudding. The smiling students said, "It's delicious!" as they commented on the "taste" and the "texture" they normally do not encounter in their everyday life in Malawi. Although they were only allowed to take a bite, some students reached out for seconds and thirds.
It has been about four years since I completed my term as a member of JOCV, but I am currently involved in a nutrition improvement project for infants at the Malawi office of NPO ISAPH. My role is to create new ways to cook using ingredients that the people in Malawi started to grow (carrots, orange sweet potatoes, garlic, etc.) and the traditional ingredients (milk, soya pieces from dried soybeans, etc.). When I started to get involved in this project, I was not able to move to the project site immediately due to COVID-19. However, I feel that my experiences in the practical cooking classes during my time in JOCV is being put to good use in the current project.
The activities at the elementary schools were what I started with full of anxiety and expectations, wondering "What can I do?" at a time when things were not going well with my work at the hospital as a JOCV member. However, as a result of these activities, I am currently delivering the "first taste" to the people in Malawi through my work.
Next will be Kaori Ikebe (Public Health) from batch FY2014-3, who was my senior at both JOCV and ISAPH. I am also curious about how she, who has been involved with one area of Malawi for over four years through JOCV and NGOs, had been feeling about Malawi!