Name: Kaori Ikebe
Batch: FY2014-3 (5 Jan. 2015 - 3 June 2017)
Technical Field: Public Health
Host Organization: Manyamura Health Centre, Mzimba District
Hometown in Japan: Yonago City, Tottori
A Piece of Memory: "A Scenery I Want to Remember Forever"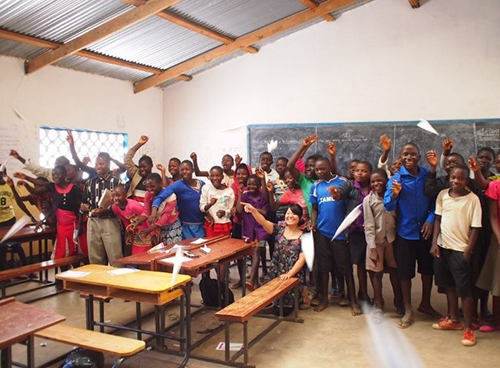 Students happily flying paper planes in a classroom
I worked as a public health worker at the Manyamura Health Center in Mzimba. The main activities were improving infant health checkups, providing nutritional guidance and cooking training for mothers at malnourished children's clinics, and improving maternal and child health handbooks at meetings of public health groups, targeting colleagues and mothers.
The term for JOCV is usually two years, but I extended my term for five months for maternal and child health handbook improvement activities. During the extended period of my stay, I was able to start school health, which I had been longing to do, with the desire to give children various knowledge and have them enjoy learning. I visited six schools targeting 6th and 7th graders, with a set of four themes: malaria, HIV/AIDS, nutrition, and introduction to Japan. The lessons were set as experiential learning as much as possible, so that the students can think about reasons and countermeasures on their own. I planned and carried out the lessons with several collaborative colleagues, but there were days when the lessons went well with colleagues who cooperated with me perfectly, days when I found the lessons ending without the colleagues showing up, and days when teachers at the school supported me. There was a day when a principal joined the class and said, "I once learned math from a Japanese, so I am really thankful for the Japanese people." The time full of smiles and excitement, the time when students took notes with a serious expression, the time when students raised their hands and made presentations—the faces of students at every moment and the scenery at that time are all unforgettable to me.
Once, a 7th grade girl I met in class said something like this. "I tried the recipe you taught me." "I want you to continue teaching us. I want to learn a lot from you." I was deeply touched with her words, since I was hardly satisfied with my work even though I had been making efforts, trying out various ideas. I was worried that I might not be able to leave something behind for the people in my place of assignment, but it was a moment when I found it meaningful to have come here if I managed to convey the thoughts about my activities to even just one person and if someone remembers me, just as my senior JOCV members were able to convey their thoughts to the principal. At the same time, there are still many issues to be addressed in Malawi, and I completed my term, thinking I want to continue with my activities so that the children can have hope for the future and stay healthy.
Such thoughts, the expression on the children's faces, and the magnificent scenery I looked up at every day did not disappear from my mind even after I returned to Japan, and this eventually became my power to continue my work in Malawi by joining ISAPH, an NPO that cooperates in healthcare.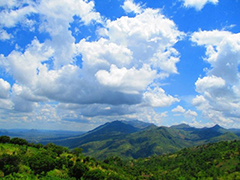 The sky in Mzimba
Looking back at my time in JOCV, there were times when I was exhausted by daily transportation on motorcycle, class preparations, normal activities and group activities, and life without electricity and water. There were times when I was depressed and had no motivation. However, every time I saw the smiles of the children I met wherever I went, my heart was healed so I would want to do my best for them. Encouraged by the power of mothers in the village, the people in Malawi, and the unique Malawi JOCV team, and impressed many times by the endless sky and horizon, I was able to continue my activities for about two-and-a-half years.
Next will be Miki Yamamoto (Forestry and Afforestation) from batch FY2014-2 assigned to the capital city (Lilongwe). She often joined me for dining, both of us all dressed up together in a way not possible in a rural village, when I went to the capital from Manyamura.