Name: Miki Yamamoto
Batch: FY2014-2 (29 Sep. 2014 - 28 Sep. 2016)
Technical Field: Forestry and Afforestation
Host Organization: Department of Forestry (Ministry of Forestry and Natural Resources)
Hometown in Japan: Nishinomiya City, Hyogo
A Piece of Memory: "The Strength of the Malawi People"
Three years after I completed my term as a member of JOCV, I felt tired of Japanese society, so in order to reacknowledge my original intentions, I headed for Malawi. I thought it would be difficult going to the African continent for the first time after three years. What if I got lost, deceived, or pickpocketed? I started my trip feeling this way, but when I arrived in Malawi, I was healed by the cityscape and the atmosphere that were the same as the old days. The priest's sermon that began when the long-distance bus departs, beautiful grasslands and dry land that can be seen from the windows, and the feeling of exhilaration that I am on the African continent that I was longing for were all the same as when I was a member of JOCV, and I regained the feeling of those days, much to my surprise.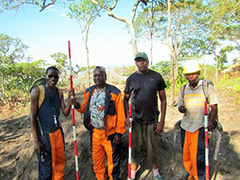 Forest resources survey (November 2015)
When I was in Malawi as a member of JOCV, illegal logging for fuelwood production was a problem in Malawi. As part of the forest conservation project, we conducted a survey of the living conditions around the target reserve and the amount of forest resources in the target sanctuary area, and helped with events to inform the Malawi government of the seriousness of the situation. As a result, the government became aware of the situation and strict crackdowns were implemented, but there were complaints from citizens when conducting research on charcoal price at the market, since the restrictions on forest resources are directly linked to their lives.
Forest conservation activities probably continued, as new projects started up even after I left Malawi. However, I was wondering about the forest environment in Malawi since I had little knowledge about the actual situation. I was anxious whether the number of trees that can be seen from buses decreased, but felt relieved by seeing places where low trees were growing, which meant that they were newly planted there.
A few days later, as I was walking down the road to the old downtown area of Lilongwe, I found a wooden bridge washed away due to the flooding of the Lilongwe River. I spoke about this to my ex-colleague with surprise, but was told "this happens every year, but it's okay because a new bridge will be built again." I had doubts since such things did not happen during the two years when I was here, but at the same time, I remembered that the people in Malawi have always overcome many difficulties with limited resources, and this was the strength I learned from them. After returning to Japan, I saw news about a flood that occurred the following month, but I believe that Malawi would definitely develop little by little with ingenuity. In our daily lives, we face some struggles and get frustrated with small things, but I want to overcome these difficulties by emulating the strength of the Malawi people, who impressed me every day when I was a JOCV member.
Next will be Yukiko Tomitaka (Youth Activities) from batch FY2014-1. She has a sense of stability, always maintaining her own pace.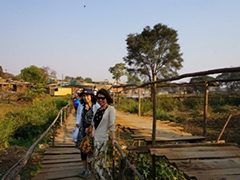 Walking around Lilongwe with a family member (September 2015)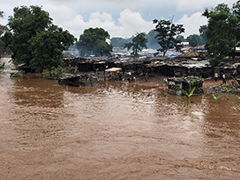 Scene of flooding (January 2020)