Name: Yukiko Tomitaka
Batch: FY2014-1 (30 June 2014 - 29 June 2016)
Technical Field: Youth Activities
Host Organization: Mitundu Teachers Development Centre
Hometown in Japan: Adachi City, Tokyo
A Piece of Memory: "Strong Children"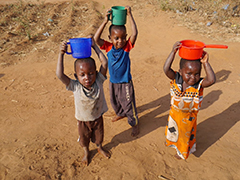 Twist the faucet and water will come out. In places where this is not normal, cooking, laundry, and bathing begin with drawing water from the well.
One day, not long after I was assigned to my workplace, as I was trying to draw water out of the well since the stock had run out at my house, children in the neighborhood, who always visited my house, came to me and started helping me. They began running toward the well carrying some buckets, empty bottles, and tubs that they used for washing dishes and clothes. As if they had been left behind, three- and four-year-old kids came up to me and said, "Kapo, kapo!" At first, I did not understand what they were saying, so I tried to go to the well to fetch water, but they kept on saying the same words. Then, one of them brought me something while repeating that word. I finally understood what they meant - it was "cup!" I realized that they wanted to help me too, so I handed them the cups I used as a ladle. By the time when we headed toward the well, second and third graders came back. The 20-liter buckets, 5-liter bottles, and the tubs were full of water.
These children were carrying such an amount of water that even adults would have a hard time carrying so easily while smiling. I was amazed that for these children, this was their everyday life, and at the same time, I realized how weak I was. I was confident with my physical strength, but this was a moment when I felt that unlike physical strength, their zest for life made them strong. One round trip is obviously not enough to fetch the amount of water they need for their daily living, so they would go back and forth many times. Even the youngest ones follow their elder brothers and sisters, trying to do as well as them. As can be expected, however, the youngest children who are about kindergarten age may have almost no water left in their cups by the time they come home from the well. I remember them carrying water with all their might, while being soaked from head down; that made me smile and grasped my heart at once.
After filling their buckets with enough water for the day, the children would begin to play in my yard as usual, and along with their loud laughter, a time to relax and unwind would begin to flow.
Next will be Rie Ikenoya (maiden name Nomura) from batch FY2013-2 (Science Education), who worked at Monkey Bay along Lake Malawi.