Name: Rie Ikenoya
Batch: FY2013-2 (30 Sep. 2013 - 29 Sep. 2015)
Technical Field: Science Education
Host Organization: Monkey Bay Secondary School
Hometown in Japan: Hamamatsu City, Shizuoka
A Piece of Memory: "The Future Connected by the Library"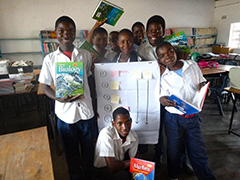 Monkey Bay Secondary School, where I was assigned to, was a small school located a few minutes away from Lake Malawi. Monkey Bay was hot and humid for most of the year, and when I was teaching at the old school building with a tin roof and no windows, I was perspiring all over my body. The students were also very exhausted, and during break time, there was a long line in front of the only water supply service at the school. I remember that the cold Fanta Passion I drank at the end of the day was very delicious.
One of the things I wanted to do during my term, and still feel good about doing it, was repairing broken desks and chairs, and a library that was an off-limit storage room filled with cleaning tools. We formed a library committee which was active every Wednesday after school, composed of a boy and a girl from each grade in the school, who loved to read books. The students and I discussed what kind of library we want to make, the layout, time of usage, and rules. We cleaned the collection of books and question sheets of past national examinations that were covered with dust, and numbered them for rent, and put them in the bookshelves and files by subject. Looking through the textbooks and magazines I brought from Japan, listening to the Japanese music with the students (their favorite was Perfume!) and chatting with them was a very fun and precious time. Even now, remembering that time warms my heart.
After the library became available, about 70-80 students would come to the library every day during break times. At that time, a single textbook cost 3,000 kwacha to 4,000 kwacha (about 500 yen), which was difficult for common households to purchase (textbooks were not sold at Monkey Bay in the first place), and students did not own them, so students copied what the teachers wrote on the board during class and used them as textbooks. Therefore, I was impressed to see the students happily reading the textbooks in the library. Also, there was a student who went to the library almost every day to read textbooks and take notes. After I returned to Japan, I heard that this student was accepted to a university (University of Malawi, the highest ranking university in the country) for the first time since the Monkey Bay Secondary School opened. Of course, being accepted to the university was due to this student's efforts, but I was happy that I was able to make a contribution in the form of giving this student and other students one more option of spending their time in the library.
After my term ended, I travelled to Malawi for work and graduate school research and had the opportunity to visit Monkey Bay Secondary School twice. Each time, the teachers took me to the library and showed me the students reading books in the library and the past national exam question and answer books created by the science and math team members at that time, which were quite well used. During my term of service, I had many doubts about whether my presence here was meaningful and whether I was helping the people of Malawi, but when I learned that the students and teachers had kept the library alive even after I returned to Japan, I was really glad that I did not give up.
Next will be Miyuki Yokouchi (Nurse) from batch FY2013-1, who supported mobile medical clinic at Thyolo in southern Malawi.