Name: Sayuri Kagawa
Batch: FY2012-3 (7 Jan. 2013 - 26 March 2015)
Technical Field: Nurse
Host Organization: Ntcheu District Hospital
Hometown in Japan: Kagawa
A Piece of Memory: "A Different Culture I Learned in Malawi"
"What kind of country is Malawi?"
This is one of the questions that I always get asked, when I try to talk about my work as a JOCV member after returning to Japan. I was thinking the same way when my dispatch was first decided.
In Malawi, there was a power outage almost every day, and water did not come out from the faucet so I used well water for laundry, and used a mbaula (a cooking stove like a Japanese shichirin) for cooking. When I go outside, I would see chickens and goats roaming around, and when I pass by someone, I would talk to them saying "Bo (Hi)!" Women wear brightly colored clothes called chitenje, and children and adults carry everything on their heads. Although my life here was inconvenient compared to Japan, I was comfortable with the slow flow of time. However, working at the hospital was a series of surprises. When the number of patients increases, one bed is shared by multiple patients, and their family members take complete care of the patients. The percentage of male nurses is much higher compared to Japan, and some of them worked in obstetrics and gynecology. When I told them that male nurses do not work in obstetrics and gynecology in Japan, I was shocked to hear them say, "Why? Gender has nothing to do with nursing," and at the same time, I realized my biased views.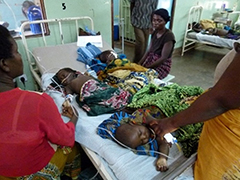 Children in the hospital receiving oxygen
By experiencing a different culture such as customs, social culture, religion, gender, and values through my activities, I feel that my perspective of seeing things has changed significantly. I learned that there are backgrounds and reasons for things that are questionable from the Japanese perspective, and this leads to understanding and accepting different cultures. I am currently working as a nurse in a hospital and am in charge of supporting visiting or resident foreign patients and families in Japan. I encounter different cultures through the relationship with various backgrounds of the foreign patients, but I think my experience in Malawi is being put to good use in my current job. I will continue to learn about different cultures and deepen my understanding and strive to reflect them in nursing, a job that has diversity.
Next will be Kensuke Mizukoshi (Computer Technology), an excellent JOCV member from batch FY2012-2.