Name: Kensuke Mizukoshi
Batch: FY2012-2 (24 Sep. 2012 - 24 Sep. 2014)
Technical Field: Computer Technology
Host Organization: Mzuzu Technical College
Hometown in Japan: Suzuka City, Mie
A Piece of Memory: "Experience in Malawi Connected to the Present Time"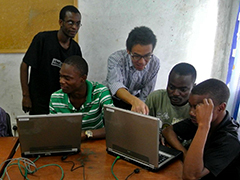 An online lecture in progress
I was waking up to the crowing of roosters in the morning and sleeping under the starry sky at night. In an inconvenient life experiencing frequent power outages and water outages, I think that in a sense the life I spent in Malawi was luxurious, something that could hardly be experienced in Japan.
I was a computer technician in a town called Mzuzu in northern Malawi, working as an ICT instructor at a technical training school. I had a lot of trouble due to power outages, since I taught ICT technologies including PC hardware, networking, and security technology. I had to teach students technology using a computer while we could not turn on the computer. Therefore, I arranged for emergencies by preparing teaching materials that did not require computers and being ready to switch at any time. Also, computers often broke. They were full of dust and were not handled properly, so there were many broken computers in the corner of the room. Since the broken parts, such as fans and CPUs, differed by computer, I took out parts that could be used and combined them to build a single computer.
I am currently working as a system engineer. The technical experiences in Malawi are almost unnecessary in Japan. However, the application of limited resources and responding calmly in an emergency are put to good use in my current job as an engineer.
It may sound arrogant, but I would be happy if my students and colleagues in the process of getting to know me have gained ICT expertise and started to treat azungu (foreigners) without prejudice. I think I have acquired the "physical and mental strength to be able to live anywhere" by getting immersed in life in Malawi for two years and meeting the local people. After returning to Japan, I had the opportunity to work as an expatriate in Southeast Asia and the United States. I believe that I was able to take the next step forward because of my experiences in Malawi.
Because of COVID-19, it is now difficult to go to neighboring countries. But I sincerely hope that one day I can return to Malawi and rejoice with the people I got involved with over each other's growth.
I would like to hand over the next baton to Yui Ogawa (Vegetable Growing) from batch FY2012-1, a member who has always been actively engaged in JOCV activities.