Name: Yui Kojima
Batch: FY2012-1 (25 June 2012 - 24 June 2014)
Technical Field: Vegetable Growing
Host Organization: Mulanje Vocational Training Centre for the Blind
Hometown in Japan: Chiba City, Chiba
A Piece of Memory: "Even If I Could Speak a Little Bit of Chichewa"
Speaking Chichewa was a respect for the students I taught, since they were visually impaired. I think it was worth learning it with enthusiasm.
On the other hand, about a year after I came here, I was burglarized while I was out of my house. It was better than a face-to-face encounter, but I hadn't imagined what would be the target of the theft. The computer and external hard disk that I left to reduce my luggage, were left on the table as usual.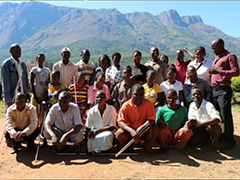 A commemorative photo of a student field trip; at my favorite spot where I almost got robbed of my camera.
I carried my camera around with me more and more every day, trying to recover the photo data, most of which had been lost. It was the height of arrogance; I had practically failed to learn my lesson. I went to my favorite spot, where I could overlook a tea plantation and Mt. Mulanje. Even if I could speak a little bit of Chichewa, or was wearing chitenje, hanging a camera around my neck would naturally have been a violation of etiquette. A passerby helped me, so it did not become a huge problem, but I almost got robbed.
At that time, I was shocked to experience such a thing at Mulanje, where I was assigned. I am now ashamed that it was an arrogant thought, and I will not forget that it was a Malawian who helped me unconditionally when I was in danger in the first place.
It happened on a minibus going from Lilongwe to Dedza. I usually enjoyed conversations with the people on the bus, but that day, I was on an energy-saving mode, emitting a "please leave me alone" aura and sat on the middle seat at the back of the bus. Shortly after departure, the bus was filled with a strange atmosphere that I had never experienced before. At the next moment, everyone turned around and rushed all at once. What's going on? Are we being attacked? No, everyone is running away. Is the bus being jacked? As I was wondering what was going on, everyone started to get out from the window one after another.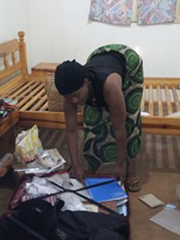 My colleague helping me pack on the day I was leaving
When the waves of oncoming people subsided, no one was there, and I finally understood the situation after seeing flames rising from the driver's seat. There were two more people who tried to get out from a window on the left side. I could not move my body toward the right side where the window was open and waited for my turn. I thought no one would help me today and that I might get injured by falling off the window, but there was a person's hand extending toward me. I was slightly hesitant, but as I handed my backpack and leaned forward, that person rescued me successfully. My backpack was returned immediately, and feeling the heavy weight of the backpack on my back, I gradually realized the series of events that had taken place. "Thank you."
I failed to say "Zikomo" (thank you in Chichewa) when I was really saved. There are people who would even help a stuck-up foreigner. These were the days I experienced the Warm Heart of Africa in my own way.
Next will be Shusuke Suda (Pharmacist) from batch FY2011-4, who readily accepted this baton, and is still a reliable senior for me.