Name: Shusuke Suda
Batch: FY2011-4 (28 March 2012 - 27 March 2014)
Technical Field: Pharmacist
Host Organization: Mzimba South District Hospital
Hometown in Japan: Niiza City, Saitama
A Piece of Memory: "What My Experiences in Malawi Have Brought About"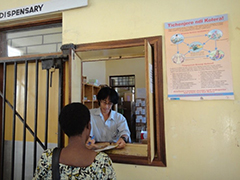 You can tell when someone is trying to do as well as possible.
I still cannot forget the scenery of Malawi that I first saw from the train window on the road to the JOCV Malawi office, after getting off at Lilongwe International Airport in Malawi on March 31, 2012. There was an empty plain spreading out before my eyes, while the sky was blue, along with white clouds that seemed to be boldly looking down at me.
I did not know the name of a small African country called Malawi, until I applied for JOCV. I later learned that it was one of the poorest countries in the world. When looking at Japan as a developed country, Malawi would be positioned as a developing country, and I had a feeling that "those in a superior position are coming to help those who are inferior," so to speak. In other words, I wanted to contribute to Malawi with what I had cultivated in Japan, such as productivity, efficiency, and knowledge.
That feeling was deeply rooted in me, and during my two years of activities here, there were times that things worked positively, but there were overwhelmingly more times that things worked negatively.
The desire to utilize my experience and knowledge for the medical field in Malawi was not accepted by my colleagues in Malawi. My idea was that the local staff would be able to afford some time for breaks as a result of my work. This was very painful and an annoying experience, as if my significance of coming here was being denied.
However, this experience led me in an unexpected direction, where I would be able to break down my sense of values that had been built up in Japan and subsequently build on the values of Malawi. I worked like the local staff, or even harder. I tried to fit into their way of work, even if it was inefficient, or if they were loafing on the job. I was able to greatly cross the line that I had in my mind as a line that "I had to protect no matter what."
It was not a unique sense of value inside me, but an experience of some values being created. In other words, I started to feel it was okay to accept the values of others, even if they were different from mine.
I still cannot forget the words of the local staff when my term was almost completed.
"Would you please stay here and work with us?"
Their words made me feel that they had accepted my activities.
After returning to Japan, I unexpectedly came across a new approach in psychiatric care called "dialogue." The simplest way to explain "dialogue" is that by having conversations with others, mental illness is eventually cured. What should be emphasized is not that experts give advice or look for conclusions, but that the essence of the dialogue itself lies in accepting the differences between oneself and others, repeatedly exchanging words and phrases, and having a dialogue. If we do this, healing will come naturally.
It can be said that this aspect of dialogue and my experiences in Malawi are based on the idea of "accepting the differences between oneself and others," and moreover that "the essence is not in the result but in the process." Achieving some kind of goal in a volunteer activity is just as important as curing mental illnesses. However, the experiences, the relationship with others, and the encounters with yourself gained through the activities (or dialogue) cannot be expressed numerically or in a form, but the world you see and how you deal with situations before and after doing so is completely different. As a result, both transform you into a new self.
The result of contributing to Malawi may have been inadequate. However, what I gained from those experiences supports my current life work called "dialogue," and I can tell that it is still expanding my life significantly.
Next will be Masayoshi Ito from FY2010-1 (Public Administration), who worked as an administrator at Mzimba South District Hospital, the same place where I worked, and has rich experience working overseas.