Name: Masayoshi Ito
Batch: FY2010-1 (20 June 2010 - 19 June 2012)
Technical Field: Public Administration
Host Organization: Mzimba South District Hospital
Hometown in Japan: Yachiyo City, Chiba
A Piece of Memory: "The Place that Keeps Connecting with the World"
"A piece of memory…." Speaking of that, it has been over 10 years since I was in JOCV, so my memories are starting to fade. Even when talking to my colleagues at that time, they would say they don't remember anymore. I will try to bring back my faint memories by looking through the old photos that I finally found….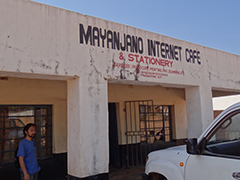 The only "internet cafe" in my place of assignment at the time. (That's me on the left, but I don't look the same any more!)
Oh, I had connected to the internet here. At that time, it was the only internet cafe in Mzimba, where I was assigned. However, from my point of view as a Japanese, I felt that it was a totally different place compared to the ones in Japan. Although there were several computers that connected to the internet, the connection speed was very slow. I could not watch videos at all, and even viewing photos was difficult. That's how it was. It was the same even at the hospital where I worked; the communication environment was very vulnerable.
When my term was coming close to completion, I practiced writing emails at this internet cafe together with Jeremiah, who was working as a security guard for my residence at that time. If he learned how to use the computer, it may be easier to find a new job, and we could still communicate with each other even after I returned to Japan. However, at that time, he did not improve very much, so I thought it would be difficult.
However, after I returned to Japan, he sent me a friend request on Facebook, and we are still exchanging messages. He now uses his smartphone very well, and often sends me photos of his family. Some time ago, he also sent me a photo saying that he had built a house in his hometown. When I revisited Malawi, he took me to his home. He says that he will eventually start a business there.
After joining the JOCV, I started to be involved with Africa and have visited Malawi several times after my term ended. When I visited the hospital where I used to work, my former colleagues were still there, and they warmly welcomed me. Even if the memories of my time in JOCV fade away, I would be able to remember those memories and feel nostalgic when I meet my former colleagues. That's the kind of relationship we have. I am currently involved in the work of increasing the number of international students from Africa to Japanese universities and graduate schools, and I thus continue to connect with Africa. Photos from 10 years ago may dissipate and memories may fade, but this connection will remain.
Along with celebrating the 50 years that each and every one of JOCV members have connected to Malawi, I hope that we will still remain connected. I also dream of an era in which the African side will become more and more connected to Japan and the rest of the world.
Next will be Mitsuko Tamura (Early Childhood Education) from batch FY2009-3. She is also one of those who has been connected with Malawi for more than 10 years.