Name: Mitsuko Tamura
Batch: FY2009-3 (7 Jan. 2010 - 12 July 2012)
Technical Field: Early Childhood Education
Host Organization: NGO Consol Homes, Orphan Care Centre
Hometown in Japan: Kagawa City, Kagawa
A Piece of Memory: "The JOCV in Malawi"
Children gather from nowhere when I say, "Let's take a picture!" Being able to take such pictures is "unique to JOCV!"
Looking back at the most difficult incident in Malawi, there was a time when electricity stopped for about two months after a year had passed since I was dispatched. I used candles for light and even used the flames to cook instant noodles, but after more than two months, I could not stand it anymore and asked the landlord, "When will my house have electricity back?" I got a shocking reply, "I have asked the power company, and they said it will take about two years." I was so angry that I bought an electric cord myself and pulled electricity from the outlet of the landlord's house through the trees and fences in the garden to the outlet of my house. Then, I turned on the electricity for four neighboring houses. Such incidents happened fairly often during my stay in Malawi, and these experiences have given me unfounded confidence that I could live anywhere in the world.
I was 38 years old when I applied for JOCV. I had never imagined living in a foreign country, but I realized that it was important to experience the world in order to get involved with children, so I decided to participate. At the beginning of my dispatch, I was thinking that my experience and knowledge might be useful for something at the site of my assignment, but on the contrary, I was able to get a lot of experience and learning, and it was a life supported by the kindness and compassion of the people of Malawi.
As it was in the opening episode, I noticed that the common sense in Japan does not always work in the world. In Malawi, things rarely go as planned, and as a result, there was a lot of waiting time, allowing me to enjoy "time with nothing to do at all." At that time, the internet was not widespread (or maybe even now?), and since there was nothing to do, I wandered around, talked to the people I met, took a nap, and read books. As I work and lead my life in Japan, I miss Malawi, realizing that "time with nothing to do = luxurious time."
Completely immersed in the smiles, kindness, and interestingness of the people of Malawi, I opened a kindergarten (SKY Kids Academy, Kang'oma, Lilongwe) in September 2020 with my local Malawi friends, aiming at "cultivating human resources who will excite the world." There are currently about 50 school children, and I would like to continue this for at least 10 years. Please stop by when visiting Lilongwe.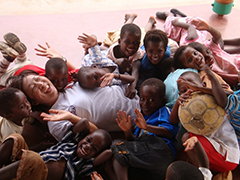 Energetic children with "The" early childhood educator
Next will be a legendary Mami Nakanishi (Broadcasting Technology and Equipment) from batch FY2008-3 who worked at the Malawi Broadcasting Corporation (MBC) in the southern part of the country. It was said that if you had a problem not being able to make up your mind about something, she would be the one you should go to for advice in making your decision.