Name: Mami Nakanishi
Batch: FY2008-3 (5 Jan. 2009 - 4 Jan. 2011)
Technical Field: Broadcasting Technology and Equipment
Host Organization: Malawi Broadcasting Corporation
Hometown in Japan: Higashiosaka City, Osaka
A Piece of Memory: "MBC and me and What's UP EPA!"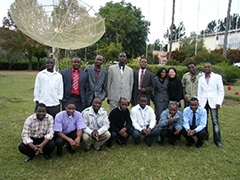 With the MBC technical staff (I asked everyone who was busy a big favor to all gather for this photo session)
My MBC life started with my first visit to Africa, my first time living abroad, and my intention to tell what I wanted to do, using my poor English and Chichewa (local language). MBC (Malawi Broadcasting Corporation) was the only TV station in Malawi at the time when I was dispatched. Initially, their business condition was such that even as a national broadcasting station, they had to get a sponsor since their annual budget was 1 kwacha (substantially 0), and there was no car, no fuel, no staff -- absolutely nothing at all!
Under such an environment, the production of an educational program produced by MBC titled "What's UP EPA!" was the result of searching for an approach for transferring technology. It was first started from a proposal by a JOCV member involved in school education. We were able to gain cooperation from JOCV members involved in a wide range of fields such as childcare, environment, and nutrition, and my range of activity also began to expand considerably. I heard that not only sharing the knowledge of members in various fields and various regions, but also having them actually perform in the program have led to various synergistic effects such as being remembered by the villagers and having our names called at the market.
It has become one of the irreplaceable experiences for me. Even though the shooting time was limited, and I was always angry with the MBC staff since there was no equipment, no car, and the cameraman failed to show up, all I remember now is the fun we had….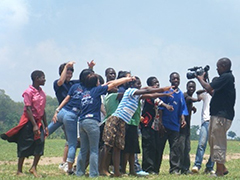 Location shooting of a dance part in "What's UP EPA" produced by JOCV members
What shocked me was the reply my colleague at my place of assignment gave in answering a question from a Malawian who said, "Why can't she wait?" My colleague said, "She has a handicap. She just can't wait." It probably couldn't be helped that my colleague had to explain to the Malawian in my absence, telling me later that my colleague made the following comment to the Malawian: "This is her strong point. You are able to finish shooting before sunset and have dinner with your family because she can't wait."
In the two years I spent in Malawi with such a handicap, I grew up from a "Kansai person who cannot wait" to a "Kansai person who can wait a little bit," and this skill is very useful both at work and in raising children. I learned that unproductive acts such as just dozing off under the shades of trees, which I could not understand at all at that time, was a luxurious and irreplaceable time. I am very grateful for the MBC staff who cooperated with my activities for completely accepting me, who had the fatal handicap of not being able to wait at all.
Next will be Rie Karasawa (Community Development) from batch FY2008-2, who always saved me with her stable spirit no matter what happened.