Name: Rie Karasawa
Batch: FY2008-2 (24 Sep. 2008 - 23 Sep. 2010)
Technical Field: Community Development
Host Organization: Mtonda Rural Hospital
Hometown in Japan: Komagane City, Nagano
A Piece of Memory: "Life in Malawi"
Any place is fine as long as I can get involved in an activity related to agriculture. The country where I was dispatched to was the Republic of Malawi. At first, I had never heard of its name. Everything about that country and international cooperation started from step 1. However, without having any time to worry, I desperately absorbed new things and departed for Malawi…. What a calm country. My first impression of this country was that everything including the flow of time and the walking speed of the people were slow.
I was assigned to a Christian hospital, where they worked on various agricultural projects not only for medical treatment but also for improving the livelihood of the community. Every day, I tried various things such as making compost for the field and planting moringa trees in order to figure out what I could do. One day, I went to the field to plant a new rice for Africa called NERICA. "Rie, what are you doing?" "I'm sowing rice." "Rice only grows near the lake! Hahaha!" A project to spread rice cultivation in that region started from here. The cultivation of conventional varieties requires a lot of water, so they were mainly cultivated near Lake Malawi. However, I wanted them to know that the new variety called NERICA can be cultivated in low marsh areas, and I also wanted to improve the people's livelihood by cultivating rice that was being sold at a price about 10 times that of corn at that time (of course, nsima is also delicious). I gathered the local people over to an open-air class, and after I finished teaching them everything from sowing to harvesting, I remember feeling happy when the people to whom we distributed seeds showed me bowls filled with the rice they had harvested.
I really think that such activities and living in this area without electricity and water would have been impossible without the cooperation of my counterpart and the local people. On the first day of my dispatch, when I was unable to light charcoal even if I used a whole box of matches, children in the neighborhood came to help me—it is a good memory. It has been more than 10 years since I returned to Japan, and even though my memory is fading, I am still healed by the lush natural landscape and the smiling faces of the people of Malawi.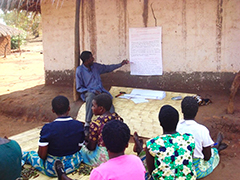 Learning about rice cultivation in an open-air class
Next will be Masayuki Kazaore (Computer Technology) from batch FY2008-1, who worked actively in Malawi, running all over the country. He quit his job as a salaried employee and has now become a farmer.