Name: Masayuki Kazaore
Batch: FY2008-1 (25 June 2008 - 24 June 2010)
Technical Field: Computer Technology
Host Organization: Banja La Mtsogolo (NGO)
Hometown in Japan: Takamatsu City, Kagawa
A Piece of Memory: "Thinking about the Importance of 'Food,' While Waiting for the Blessings of Heaven"
On a summer day when farmers are busy preparing autumn and winter vegetables, I sometimes remember my life in Malawi, while sprinkling water on fields that have dried up because it just hasn't rained day after day.
"It's about time for some rain, don't you think?" You can hear people say this in Malawi in late November, right before the rainy season. They are "waiting for the rain," which always comes after sowing maize rice every year. I never thought that 10 years later in Japan, I would be looking forward to the blessings of heaven.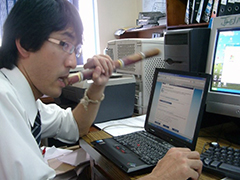 Trying to work while nibbling on a sugar cane
The reason I quit being a system engineer and became a farmer is due to my life in Malawi.
Thirteen years ago, I was on a plane over Lilongwe. The ground consisting of red clay so desolate that it made me wonder, "Is this the sky over the capital?"; the horizon stretching as far as the eye could see; the ridges in the sky; the water resources surrounding Lake Malawi; and the rich natural environment…in the everyday lives of the people that exist under such conditions, I saw maize rice planted in vacant lots as small as a cat's forehead (very small patches of land) in towns and villages and even along roadsides, and I witnessed a livelihood of near self-sufficiency. As a person who grew up in a non-farmer's house and had nothing to do with agriculture, the act of cultivating one's own food was an eye-opener in itself.
Also, I felt the importance of "food" for human beings through my life in Malawi. Happiness felt through the umami of oil and eating together was something that is rarely felt in Japan. When I ate three cups of rice with yakiniku on the day after I had a fever exceeding 40 degrees (Centigrade), the healthcare worker at that time said, "If you eat that much, you might not get malaria," but like Luffy (a character) in One Piece (a manga series) said, there is no doubt that the origin of human vitality lies in "food."
Anyway, what I can say is, "Eat a lot of rice when you can eat!" In Malawi, Japan, or anywhere else in the world, it was a great deal for me to experience the realization of the truth of human life.
Next will be Shota Motoi (Science and Mathematics Teacher) from batch FY2007-4, aka Goripon, an energetic and passionate man, who looks good crying like a man!