Name: Kanako Morita (maiden name Tanaka)
Batch: FY2007-1 (18 June 2007 - 17 June 2009)
Technical Field: HIV/AIDS Control
Host Organization: Mzimba District Social Welfare Office,Luwerezi
Hometown in Japan: Kumatori Town, Osaka
A Piece of Memory: "The Importance of Being Close to and Respecting Each Other"
At the age of 28, I was a mid-level director in my eighth year at a TV station in Osaka, and was pressed for time on a daily basis. I decided that I wanted to have time in my life to focus on doing something useful for others. I took a leave of absence from my job with a burning desire and was dispatched to Luwerezi, a region in the northern part of the Republic of Malawi, as a member of the AIDS task force, using the incumbent participation system.
In this area with no electricity or water, my job was to coordinate a dozen of small volunteer groups that supported HIV-positive people.
I was assigned to ask each group what kind of activities they wanted to conduct, come up with ideas to realize them, give lectures, and strengthen cooperation between the groups. However, at first, nothing went well, my strong passion turned out fruitless, I had a hard time communicating with my group members, and I was constantly making mistakes.
Right around the time when I was dispatched, I still hadn't gotten over the feeling of working on TV in Japan. There was a person, who was terribly late for a meeting where volunteer groups exchanged opinions. I asked him, "Why are you late for this meeting? This is your activity. Being late is not allowed in Japan. Time is money." I ended up warning him in a teacher-like tone in front of many members.
As a result, he stopped coming to volunteer group activities….
I was worried about him, so when I talked about it with the other members, we decided to go see him.
This was my first visit to his house.
It took more than two hours by bicycle from the meeting place. He would take more than 4 hours on foot, since he does not have a bicycle.
When I visited his house, he said, "I'm sorry I was late, but I'm busy with my field work during this time of the year, so I finished my work in a hurry and walked hard to get to the meeting place, but I couldn't be there before the time. I couldn't participate anymore because I was so embarrassed being warned in front of many people."
When I heard this, I regretted that I did such a rude thing to him without understanding his circumstances and not giving any consideration to his feelings. He had tried his best to walk to participate in the meeting after work, not to mention that he was an unpaid volunteer staff. I had hurt his pride by arrogantly criticizing him in front of many people for being late.
It has been 10 years since I returned to Japan, and I still remember well what happened then. Pride is something that both Japanese and Malawi people have in the same way. Once again, I realized the importance of "understanding local circumstances, being considerate, and being respectful."
After that, I sincerely told him "Pepani (sorry)," talked with him and the other group members, and learned from them about Luwerezi—about life, farm work, how to spend the rainy and dry seasons, and problems of HIV/AIDS that villages face.
As I started to gradually understand the situations of the villages and worked with the group members, our relationship with them surprisingly started to improve.
During my two years at Luwerezi, I went from village to village on foot or by bicycle with the group members, worked on supporting HIV-positive people and enlightening activities on prevention, and sometimes held soccer tournaments and theater contests to liven up the community. I also had various experiences such as promoting moringa and soybeans, since taking nutrition is important to enhance immunity.
Unfortunately, I do not know how much I was able to contribute to Luwerezi during the two years that I stayed there. I think there are lots of unfinished business left there. However, it was a two-year period where I talked a lot with the people of the village, crying, laughing, and crying again, trying my best to approach them face to face in my own way.
After returning to Japan, I immediately went back to television work, subsequently working at a TV station for about eight years, getting married and giving birth, and going through many things. I am now running a shop selling home-roasted coffee. I am striving every day to deliver coffee beans all over Japan using my mobile sales car with a roasting machine on board.
Of course, we have coffee beans imported from Malawi. These are the most important coffee beans for my shop.
My dream now is to go to Malawi and buy coffee beans myself.
I dream of being directly involved in the employment and income of the people of Malawi.
It has been about 13 years since I returned to Japan.
The various experiences I had during my two years in Luwerezi, Malawi are still my precious treasures, and I will continue to cherish them as unforgettable memories.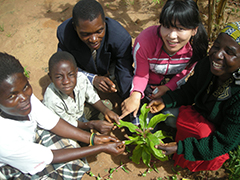 With my counterparts who taught me important things
Next will be my reliable companion, Yuya Nakamura, from batch FY2007-1, who worked on HIV/AIDS Control and has worked together with me in soybean promotion activities.