The Japanese government is supporting on reduction of non-revenue water in Malawi. We would like to introduce the background and aims of these efforts as well as the issues on water supply situation in Malawi.
First of all, we would like to explain the word "non-revenue water" because many people might not be familiar with the term. "Non-revenue water" refers to the amount of water that does not lead to toll revenue due to different challenges for instance water leakage from poor construction of drainage pipes or misreading of water meters. It can be said that the smaller this ratio is, the better the water supply management condition is. Some water utilities in Japan have a non-revenue water rate of 10% or less but in many developing countries the non-revenue water rate is as high as 30% to 40%, which means that they haven't earned enough money compared with the produced water. Therefore, reducing the non-revenue water rate has become an important theme in the management of water utilities. For example, let us illustrate an example of an apple valued 100 yen (approx 720MWK) per apple. If the non-revenue water rate is 0%, the profit from selling 100 apples will be 100 x 100, which is 10,000 yen (approx 72,000MWK). However, if the non-revenue water rate is 30%, there are 30 apples that do not lead to toll revenue, and the profit is 100 x (100-30), which is 7,000 yen (approx. 50,400MWK). Then you can understand the magnitude of the economic loss.
Lilongwe City has a population growth rate of 3.8% (Census in 2018) which is the highest population growth rate in Malawi. Therefore, it is an area where water demand is increasing significantly as the population grows. The water demand in Lilongwe City (123,211 m3 / day: 2015) far exceeds the amount of water produced by the Lilongwe Water Board (LWB) (92,411 m3 / day: 2015). In addition, non-revenue water accounts for 38.9% of production water (as of March 2020). In this reason, we can mention that water demand is too tight. LWB attaches great importance to reducing the amount of non-revenue water in order to efficiently utilize the amount of existing water source. They set the goal of reducing the non-revenue water rate to 28% by 2020 in the "LWB Strategic Plan 2015-2020".
Against this background, the Government of Malawi requested support from the Government of Japan. Then JICA which is implementing agency of Official Development Assistance, decided to implement non-revenue water countermeasure support for LWB through a technical cooperation project. The technical cooperation project started in June 2019 and will continue for four years. Through project activities, JICA aims to strengthen the capacity of LWB staff by supporting the creation and training of non-revenue water reduction plans. The project dispatched experts from Yokohama Waterworks Bureau, these were experts who had been engaged in another water project in Malawi previously, and some other experienced experts who have been engaged in water projects in other countries as well. They support the project as a "Team Malawi".
Project experts technically engage in a dialogue with LWB according to their respective experiences and expertise from Japan or other countries. Currently, the project is formulating a non-revenue water reduction plan from 2020 to 2025. The most important thing in planning is to make a feasible plan. Therefore, when formulating a non-revenue water plan, it is necessary to break down what kind of intervention is necessary toward the goal and verify its feasibility from an objective point of view. At that time, project experts are trying to broaden the horizons of LWB by introducing the method of planning as what happens in Yokohama Waterworks Bureau, Of course not necessarily to follow the 100% Japanese method.
Through project activities, JICA also values the connections among all water board in Malawi. When conducting seminars and workshops through this project activities, we are widely inviting all other water boards to participate so that not only LWB but also other water boards have opportunities to learn and interact. During the seminars other water boards participants are encouraged to give constructive comments and questions with LWB. In the future, it is expected that LWB will share the knowledge learned through the project with the other water board.
The Japanese government is providing support to the problem of water demand due to the rapid population growth in Malawi from the perspective of countermeasures against non-revenue water. However, at the same time, water resource development is also important. In fact, LWB is developing water resources with the support of other donors, and is tackling the water demand problem both the aspect of non-revenue water and water resource development. Since it takes a long time to develop large-scale water resources, it is desirable to consider an optimal water development plan with an eye on population growth in the next 20 to 30 years. Non-revenue water countermeasures that make effective use of current resources while conducting long-term water resource development are important for Malawi, which has a limited budget for water resource development. JICA will continue to cooperate so that water shortages can be improved and basic social services in Malawi can be improved through countermeasures against non-revenue water.
24th December, 2020
Arimi Mitsunaga
Assistant Resident Representative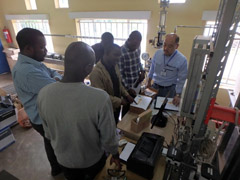 Demonstration site of accuracy verification equipment such as customer meters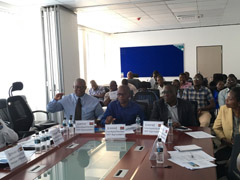 Workshop through project activities