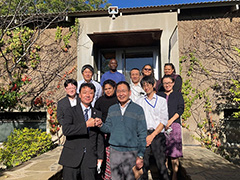 The left of the front row is Mr. Susaki, Resident Representative in JICA Namibia Office
The Republic of Namibia is located in the southwestern part of Africa.
Its western border has a view of the Atlantic Ocean and it is neighboring four countries; South Africa, Botswana, Zambia and Angola. The annual rain fall of Namibia is about 400mm and most of its land is covered with dry deserts and cool, cold plateaus due to the cold Benguela current circulating from near Antarctica. Namibia has not been familiar to Japan yet, but it is abundant with unique natural resources, such as Namib Desert and welwitschia. The beautiful Namib Desert is said to be the oldest in the world, and welwitschia whose Japanese name is Kisotengai, the most unexpected idea, has grown naturally in Namib Desert for over 1000 years. There are many national parks where people can enjoy wildlife and rich nature, so many tourists from foreign countries visit Namibia every year.
The Republic of Namibia became independent from South Africa in 1990. It is rich in underground resources like diamonds and uranium, it also earns foreign currency from exporting beef and aquatic products. It is ranked as an upper-middle income country with over 5000 dollars of Gross National Income. Its Human Development Index, such as life expectancy, income and education has greatly improved since its independence because of democratic politics and a healthy macro-economy. There are not any conflicts among ethnic groups and tribes, and they manage a sane and conciliatory government.
However, its Gini coefficient is said to be first or second place in the world, and economic bipolarization between a small number of the rich and a number of the poor is clear. Therefore, they are facing the harsh reality that the unemployment rate is high, which is 30 percent in average and about 40 percent for the younger generation from 16 to 35 years old.
The government of Namibia announced the poverty and economic disparity reduction promotion planII(Harambee Prosperity PlanII: HPPII) in 2021 and the fifth National Development Plan (NDP-5:2017/18-2021/22) in 2017, and has been engaging in a stable democratic nation, economic growth and correction of economic disparity as its priority issues under the slogan of poverty eradication and eradication of corruption.
2017 was the year for the Japanese government to revise the policy of development cooperation toward Namibia. Following HPP and NDP-5, we made our revised policy to focus on improvement of industrial infrastructure which supports sustainable economic growth and contribution to poverty reduction/improvement of living in rural faming areas.
JICA opened its field office in the Republic of Namibia in December 2005. We have dispatched 146 JICA overseas cooperation volunteers in total so far in various fields, such as elementary school education, PC instructor/computer technology, architecture/civil engineering, rice cultivation and clothing.
Due to the effects of Covid-19, all volunteer members had to return to Japan in 2020, however, we have restarted to dispatch volunteer members while examining the medical situations of their assigned areas carefully. We have also been carrying out infrastructure development support for economic growth along with living improvement support in rural faming areas through technology cooperation by experts.
We continue to promote our support toward development issues of the Republic of Namibia by working closely together with the Embassy of Japan in Namibia which was opened in January 2015.
SUSAKI Takehiro
Resident Representative
JICA Namibia Office