Background and Objective

GeMSIP aims to strengthen functions of Nepal's existing frameworks, policy and guidelines on Gender Mainstreaming and Social Inclusion responsive programs at national, district and local levels. Target districts are Syangja as representative of the Hill area and Morang as representative of the Terai area. For achieving the objective of this project, GM/SI responsive mechanism is developed through the institutional capacity enhancement at the national government and two targeted districts. Major outputs are: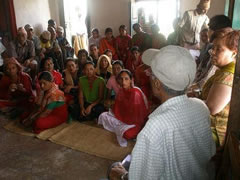 1. GM/SI understanding is enhanced through trainings (of persons concerned in the two districts and at the national level).
2. Targeted two districts are able to carry out "GM/SI Appraisal" on development plans and "GM/SI Audit" on budget of implementing plans in accordance with GM/SI related guidelines.
3. Targeted two districts are able to formulate GM/SI responsive development plans in accordance with GM/SI guidelines.
4. Targeted two districts are able to periodically carry out "GM/SI Monitoring" on implementing plans and projects.
5. "GM/SI responsive practical operational manuals for local bodies (LBs) and WDO" are developed in the two districts based on processes, practices and lessons gained by the Project.
6. Dissemination strategies of "GM/SI practical operational manuals for LBs and WDO" to other districts are developed jointly by MoLD, MoWCSW, DWD and GFP/SIFP at the national level.
7. Function of GM/SI related coordinating committees are enhanced and networking is strengthened.
Under mutual consensus between JICA and Government of Nepal, JICA dispatched Japanese Experts, Counterpart training in Japan, and necessary equipments.
Partners/Counterparts: Ministry of Local Development (MoLD); Department of Women Development (DWD), Ministry of Women, Children and Social Welfare (MoWCSW)
Period: February 2009 to January 2014
Area: Central Morang, Syangja Districts
R/D, PDM:GMSIP RD (PDF/591KB), GMSIP PDM (PDF/74KB)
Background and Objective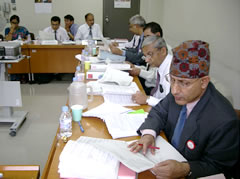 The objective of the project is to enhance knowledge and skills of the members of Civil Law Reforms and Improvement Task Force (hereinafter referred to as the "Task Force") in order to improve the current draft Civil Code in accordance with international standards and Nepali culture, legal and environmental features.
Expected outcomes of the Support program are:
1. The Task Force members will develop knowledge and familiarity with Civil Law development process based on Japanese practical experiences
2. The Task Force members acquire skills and know-how on reflecting international standards, cultures and environmental features in civil code development
Partners/Counterparts: Civil Law Reforming and Improvement Taskforce (Ministry of Law and Justice, Supreme Court)
Period: 2009-2012