Background and Objective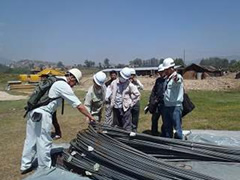 In January 2008, Japan established the Cool Earth Partnership for the developing countries aiming to achieve greenhouse gas (GHG) emission reductions and economic growth as well as working to contribute for climate stability. A new grant aid scheme named 'Program Grant Aid for Environment and Climate Change' has been created in 2008 as a component of this package to support a developing country, which is willing to contribute to climate stability but facing shortages in implementing capacity as well as funds. In accordance with the policy of the Japanese Government, JICA decided to promote clean energy, including renewable energy, to be promoted as a 'co-benefit' cooperation case and utilize Japanese advanced technology including technology of the private sectors.
A solar photovoltaic system of around 350 KW will be installed at Dhobighat. The electricity generated from this system will be utilized by Kathmandu Upatyaka Khane Pani Limited (KUKL) for water pumping and the remaining electricity will be connected to the national grid. This project is expected to demonstrate the performance of PV system as a source of energy to mitigate the shortage of electricity supply. The objective of the project is to promote clean energy utilization and achieve emissions reductions by installing the photovoltaic system to be connected to the national grid.
Partners/Counterparts: Kathmandu Valley Water Supply Management Board and Kathmandu Upatyaka Khane Pani Limited
Period: 11 months
Area: Dhobighat Water Storage Pond
Agreements: E/N and G/A signed on January 29, 2010
Background and Objective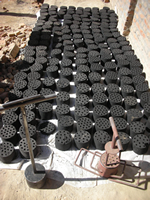 The Centre for Energy Environment Nepal (CEEN) has been encouraging the use of Bio-briquette (Beehive or Honeycomb briquettes and charcoal pellets) as an alternative source of energy for firewood and kerosene. Bio-briquette is regarded as one of the alternative fuels with high potential and is made from a charcoal of 'non woody biomass or waste biomass' using agro-forest wastes such as Eupatorium Adenophorum (Banmara), Mugwort (Tite pati), Lantana Camara (Dhurmre phool) and different agricultural residues. The objective of the project is to promote the use of bio-briquette to village and urban areas by developing and promoting better combustion devices.
Partners/Counterpart: Centre for Energy and Environment Nepal (CEEN)
Period: July 21, 2009 to July 20, 2012
Area: Dakshinkali village