Activities in Nepal
Transportation
Project for the construction of Sindhuli Road (Grant Aid Project)
Background and Objective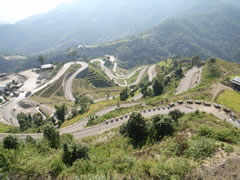 Sindhuli road is planned as a new alternate route which connects the capital city Kathmandu to Terai. Its feasibility study was completed in 1988 by JICA. This road is designed to be environmental friendly, easy maintenance and low cost. Total length (158km) from Bardibas to Dhulikhel was divided into 4 sections:
Section1: Bardibas-Sindhuli Bazaar (37km)
Section2: Sindhuli Bazaar-Khurkot (39km)
Section3: Khurkot-Nepalthok (32km)
Section4: Nepalthok-Dhulikhel (50km)
The construction work first started on section 1 in 1996. Currently, the Japanese side of the construction work was completed in section 1, 2 and 4 while Department of Road (DoR) is implementing remaining pavement works. Section 3 is under construction. Japanese and Nepali engineers are making great efforts to accomplish this project as it is challenging to build a road in the difficult geographical terrains of Nepal. This road is anticipated to be not just a new road but also a road corridor that will encourage socio-economic development and connect people to people.
Partners/Counterparts: Department of Roads, Ministry of Physical Planning & Works
Period: 1996 - under construction
Area: Bardibas - Dhulikhel
Community Access Improvement Project (Grant Aid Project)
Background and Objective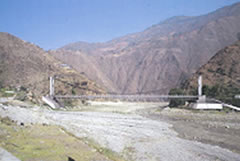 In order to prevent conflict and promote peace, Japan assists in fighting economic disparity and poverty through rural infrastructure development. JICA selected rural transport infrastructure in five districts (Mahottari, Sindhuli, Ramechhap, Kavrepalanchowk and Sindhupalchowk) from the viewpoint of conflict influence, poverty situation and impact. The project will construct river-crossing structures at about 35 sites which have suffered road closure due to swollen rivers along 13 rural roads in five districts. Structure will be composed of single lane motorable suspension bridges, truss bridges, reinforced concrete bridges and continuous box bridges. This project is also anticipated to activate the Sindhuli road corridor and be a pilot project for motorable bridges in the rural roads.
Partners/Counterparts: Department of Local Infrastructure Development and Agriculture Roads (DOLIDAR), Ministry of Local Development
Period: Started from December 1, 2010 (24 Months)
Area: Mahottari, Sindhuli, Ramechhap, Kavrepalanchowk and Sindhupalchowk
Major Projects in the Past:
(DS) The Study on the Kathmandu Valley Urban Road Development
(GA) Construction of a New Bagmati Bridge at Thapathali
(GA) Improvement of Intersections in Kathmandu City
TCP: Technical Cooperation Project; DS: Development Study (TCP); GA: Grant Aid; LA: Loan Aid (Yen Loan); JPP: JICA Partnership Program
Project for the improvement of Kathmandu-Bhaktapur Road (Grant Aid Project)
Background and Objective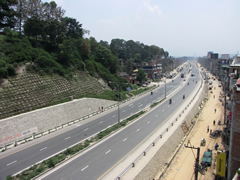 The Kathmandu to Bhaktapur road section has the highest traffic volume among all strategic roads in Nepal. As a result, severe traffic jam occurs as the traffic volume is beyond the road capacity. The completion of the Sindhuli road will see majority of the traffic flow on this road. The main objective of the project is widening of the existing road between Kathmandu (Tinkune Intersection) and Bhaktapur (Suryabinayak Intersection) from 2 lane to 4 lanes; construction of new Manohara and Hanumante Bridges; improvement of intersections at Jadibuti, Gathaghar, Thimi, Sallaghari and Suryabinayak including signalization at Thimi and Suryabinayak; and provision of lay-bys for bus stops.
Partners/Counterparts: Department of Roads, Ministry of Physical Planning & Works
Period: November 2008 to March 2011
Area: 9.1 km from Tinkune to Suryabinayak