Activities in Nepal
Water Resources and Disaster Management
Melamchi Water Supply Project (Water Treatment Plant) (Loan Aid)
Background and Objective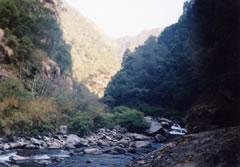 JICA study predicted that the water demand in the Kathmandu valley will be 207.8 MLD (Million liters per day) in 2011 and 332 MLD in 2021, though the water supply at present is estimated as about 140 MLD. Melamchi Water Supply Project aims to improve water supply in the water-needy Kathmandu valley by diversion of surface water from the Melamchi River. Melamchi Water Supply Project of the Government of Nepal is the generic title which includes varieties of components such as construction of a 26 km long diversion tunnel and a water treatment plant, and improvement of Bulk Distribution system and Distribution Network Improvement works, etc. JICA Loan Aid is utilized by the Government of Nepal for the construction of Water Treatment Plant.
Partners/Counterparts: Government of Nepal including Ministry of Finance and Ministry of Physical Planning and Works, Melamchi Water Supply Development Board, Asian Development Bank, etc
Period: Construction completion target date - November 2013
Area: Kathmandu valley
The Project for Capacity Development on Water Supply in Semi-Urban Areas in Nepal (Technical Cooperation Project)
Background and Objective
This project aims to improve technical support system provided from the Department of Water Supply and Sewerage (DWSS) to Water Users Service Committee (WUSC) in Morang and Jhapa districts. Having three WUSCs as pilot sites, it provides OJT trainings to Government staffs that technically support WUSC. These OJT trainings serve as the actual technical trainings to WUSC. Through these activities, the project comes up with the "Small and Medium sized Water Supply Support Model" for DWSS, and "Small and Medium sized Water Supply Management Model" for WUSC, which will be replicated to other WUSCs in Morang and Jhapa districts.
Partners/Counterparts: Department of Water Supply and Sewerage, Water Supply and Sanitation District Offices and WUSC of Morang and Jhapa district
Period: February 2010 - October 2013 (tentative)
Area: Morang, Jhapa districts
Project of Local Capacity Building for Arsenic Mitigation in Nawalparasi (Kyushu University) (JICA Partnership Program)
Background and Objective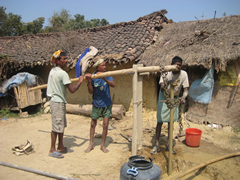 It has been approximately 10 years since arsenic contamination was first recognized in Nepal. Village surveys show the local government has not acquired much information about arsenic risks and they lack the methods and technology of generating safe water. Therefore, lack of this information is preventing them from actively dealing with arsenic contamination. The objective of this project is to provide information and technology to the local people to make them aware of arsenic risks and cope with arsenic contamination.
Partners/Counterpart: Environment and Public Health Organization (ENPHO)
Period: December 20, 2010 to June 16, 2013
Area: Nawalparasi district
Major Projects in the Past:
(GA) Kathmandu Water Supply Facility Improvement Project
(GA) The Improvement of Water Supply Facilities in Urban and Semi-Urban Centers
TCP: Technical Cooperation Project; DS: Development Study (TCP); GA: Grant Aid; LA: Loan Aid (Yen Loan); JPP: JICA Partnership Program