JICA in Nepal
JICA's Assistance for Nepal
For Poverty Reduction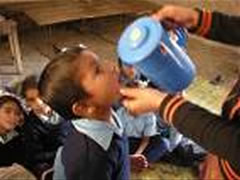 Nepal is one of the least developed countries in South Asia. Despite recent progress in poverty reduction, inequality among the population seems to have increased. JICA supports poverty reduction in Nepal by implementing various programs in agriculture, rural development, education and health. The challenges and goals of these programs are to improve the basic life and ensure equal benefits to the people.
Agriculture and Rural Development
JICA-Nepal contributes to the improvement of rural livelihood through agriculture by addressing food security, income generation, and capacity development of government and farmers' groups. It also aims to ensure that people have equal access to assets (food, water, fertilizer, etc.) and services.
Basic Education
JICA-Nepal provides support to improve access, quality and management of basic education through different schemes.
Health
JICA-Nepal aims to improve health conditions in Nepal by extending support to the basic health and medical service delivery through different schemes.
For Democratization and Peacebuilding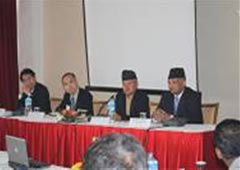 Nepal faces new challenges in its democratization process after a decade of armed conflict and the subsequent historical Constitutional Assembly election in 2008. JICA supports Nepal's Democratization and Peacebuilding process with a focus on democratic institutionalization (Constitutional Assembly, Election Commission, media, legal sector), as well as strengthening the governance at central and local level.
Support Democratization Process
JICA-Nepal promotes the democratization process through capacity development in significant political development, such as constitution making and general elections, adoption of electoral system, development/reformation of basic laws and strengthening access to laws and justice. JICA also supports the development of free and fair media in order for citizens to be informed of peace process and political development in a democratic manner.
Strengthen Inclusive Governance
Strengthen Capability of the Central Government
JICA-Nepal assists state building in Nepal by strengthening the governance at central and local level. It provides capacity building at central level primarily on project planning, implementation, and monitoring & evaluation. The main strategy is to develop awareness of the central government on ownership and to reinforce planning and implementation capacity, policies and systems for effective development programs as well as improving government institutions.
Empowerment of Local Government and Communication
JICA-Nepal helps to strengthen local government's capacity for project implementation and better service delivery. It endorses models for participatory development planning and implementation responding to local needs with particular focus on socially disadvantaged and conflict-affected people, while strengthening the citizen and community's protection and their capacity
For Establishment of Social and Economic Infrastructure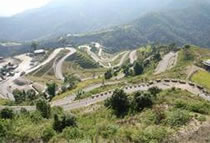 Basic infrastructure is essential for economic development but to development one in a mountainous country like Nepal is a huge challenge.
JICA-Nepal's support in this area is focused on transport infrastructure, electric power, water supply, and urban environment by incorporating Technical Cooperation, Grant Aid and Yen Loan.
Transportation
JICA-Nepal aims to secure a land route that is stable, reliable, and highly disaster-resistant by establishing and maintaining a road network that links the capital of Katmandu with India and the Terai Plain. JICA will also conduct a study securing a safe transportation network by establishing regional roads, bridges, and other facilities.
Electric Power
JICA-Nepal aims to improve planning and facility establishment toward stable power supply as well as the planning capabilities of Ministry of Water Resources, and the technical standards of Nepal Electricity Authority (NEA) in order to contribute to sustainable economic and industrial development and stable livelihoods.
Water Supply
JICA-Nepal is supporting construction of new waterworks facilities as well as improvement of water-supply services through better management and development of technical capacity for water-supply entities.
Urban Environment
JICA-Nepal aims to resolve urban environmental problems and improve living environments, as well as to contribute towards reduction of earthquake-caused damages.