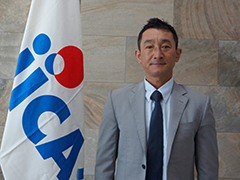 I am ODANI Tomoyuki. On November 1, 2022, I honorably assumed the representation of the Japan International Cooperation Agency, JICA in Nicaragua.
It is the second opportunity for me to visit Nicaragua, after 12 years when I traveled for the first time as part of the evaluation mission of the Project for the Strengthening of Basic and Continuing Nursing Education (Angeles Project) carried out from 2007 to 2010 at the Central American level.
Nicaragua has a hard-working people, fertile land, and has traditionally played an important role in supplying the American continent with agricultural products and mining resources. However, there are not easy challenges such as poverty, which affects more than 40% of the population, and inequality between the economically rich and the disadvantaged, whose GINI coefficient index places the country as the eighteenth most unequal country in the world. Throughout its history, the country has gone through several conflicts. In addition, the country is always exposed to external threats from natural phenomena such as earthquakes and hurricanes. Despite these challenging circumstances, the Nicaraguan people live strong and resilient lives for themselves, their families and a better future for society.
JICA began cooperation in Nicaragua by receiving the first Nicaraguan scholarship holder from the agricultural sector in Japan in 1964 and so far there are more than 2,200 scholarship holders who have learned the knowledge and technologies from Japan. The first Japanese expert from the fishing sector visited Nicaragua in 1970, and now there are more than 670 Japanese experts who have shared their knowledge on agricultural, health, among others sectors, hand in hand with Nicaraguan specialists, thus strengthening bonds of trust and friendships. From the 90s onwards, several technical cooperation projects were developed more intensively in order to contribute to the primary needs such as health, education, among others. In 1991, the Japanese Volunteer Dispatch Program was incorporated into JICA's history of cooperation with Nicaragua. From 2000 to the present, we have been carrying out a wide range of cooperation to respond to the diversified needs of the country such as vital infrastructure, drinking water, urbanization, local development, strengthening for natural disasters and energy, always accompanied by transfer of technical knowledge from Japanese.
Nicaragua has an immense potential of resources essential for the development of the country such as the seas, mountains and lakes, natural resources resulting from the tropical climate that are also a tourist attraction, quality agricultural products such as coffee, cocoa and meat, etc., sources of renewable energy such as geothermal and water resources, as well as access to both the Pacific Ocean and the Atlantic, among others. And above all, the country has the Nicaraguan people as an invaluable resource for the development of the country, who live silently, but with a strong desire to move forward. We at JICA Nicaragua will continue to combine our best efforts together with the talented Nicaraguans on key issues such as socioeconomic development, the environment, reduction of the risk of natural disasters, etc.
ODANI Tomoyuki
Chief Representative
JICA Nicaragua