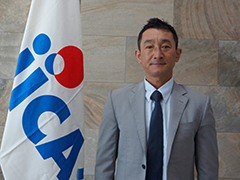 In 2016, JICA Nicaragua celebrated the 25th anniversary of activities since the first dispatch of Japanese volunteers to this country, in 1991.
The 90's, after the end of civil war during the 80's, was the time of reconstruction of the country. Thus, JICA supported mainly social development, in sectors such as health, education, agriculture and basic infrastructure (drinking water and sanitation).
From around the year 2000, Nicaragua entered the stage of seeking greater growth and development, above all, economic growth has been stable since 2010. According to this shift, in addition to social sector, JICA began to enhance its assistance in economic sectors such as infrastructure that promotes regional development, energy, urban development of the capital, Managua. Likewise, we have been focusing on strengthening resilience against natural disasters to mitigate a risk for development.
Nicaraguans in general are very honest and responsible people, keep a good custom of supporting each other, and are great friends of Japan. Before working in this country, I had an impression that Nicaragua was a country of civil war, but then I realized that it is a very peaceful country.
Unfortunately, the events that have occurred since April 2018 in Nicaragua affected security and economy. The dwindling government budget and stagnation in economic activities of private sector have caused higher unemployment and in particular threaten livelihoods of poor and people who are just escaping from poverty.
Facing a crucial new stage, JICA Nicaragua will make our best efforts to carry out a "People to People Cooperation" in accordance with the aspiration of Nicaraguans. We are committed to balanced work based on the trust we have historically established with this country for encouraging Nicaragua's strengths and virtues which also means a contribution to sound development of Japan and international society.
NAI Hiromi
Chief Representative
JICA Nicaragua