Vaccination at Doorstep
The Expanded Programme on Immunization (EPI) is a vaccination programme that targets children and pregnant women in order to reduce mortality and morbidity resulting from ten vaccine preventable diseases.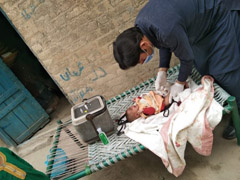 Mr. Shaida Muhammad administering vaccine to an infant during outreach programme.
Pakistan's effort for EPI are laudable but the challenges and needs on ground are significant enough, hence, the Country is doing more to meet the expected benchmarks.
The reasons for the limited EPI target achievement in Pakistan can be attributed to inadequate immunization services, lack of parent awareness and frail management system. In order to address these challenges, the Government of Pakistan is engaging her resources coupled with the support from the international partners. One such engagement is between the Government of Khyber Pakhtunkhwa (KP) and JICA.
In KP, JICA has joined hands with Department of Health in its outreach programme. The programme has identified hard to reach areas of KP and endeavors to (1) Bring the immunization services at the door step of the target population, (2) Demand creation and social mobilization for the vaccination, and (3) Capacity building of the government officials for improving the management system including monitoring and evaluation.
In collaboration with JICA, extensive trainings have been imparted to the vaccinators for service delivery and materials were produced for awareness and demand creation. The activities of the project continue un-hindered despite restrictions imposed by COVID 19.
With over 14 years of experience as EPI Technician, Mr. Saifullah Khan commends the initiative of JICA to join the outreach programme for EPI. He believes that "EPI outreach programme has improved over period of time and the recent ongoing intervention by JICA is paying dividends". Mr Saifullah believes that JICA sponsored trainings have "made the vaccinators more cautious about vaccines management, administration and the monitoring has improved a lot". He believes that social mobilization tools created with support of JICA have "sensitized people a lot and made our job comparatively easy".
Another junior EPI Vaccinator, Mr. Shaida Muhammad opines that the JICA funded trainings have been of "immense help to junior vaccinators because this is how we learned the key do's and don't of the profession". He is of the opinion that private health clinics of the province "should be included" in the social mobilization component of the outreach programme because "people prefer to act upon the advise of their health care providers".
JICA enjoys over 20 years of partnership with Pakistan in EPI/Polio programme. We are thankful to the Health Department of KP especially the vaccinators in the field, who despite challenging COVID restrictions, are continuing with their outreach programme and ensure no child is left behind.