Unlocking Women's Innate Potential Through Skills Development in Pakistan
Investing in women's empowerment can unlock human capabilities on a transformational scale. For countries to progress, girls and women must have skills and level playing environment and opportunities to contribute to national wealth and prosperity.
Women's empowerment has long been a priority goal of Japan International Cooperation Agency's (JICA) development assistance policy. Special focus has been given to girls and women particularly from disadvanged position and marginalized areas.
To harness the innate potential of girls and women in Pakistan, JICA has been funding and implementing the Project for Skills Development and Market Diversification (PSDMD) of Garment Industry in cooperation with Textile Division, Ministry of Commerce.
Hundreds of girls and women have graduated and benefited from various trainings offered to them under the project. Some of them have found job in national and international companies while some have started their own business.
Here I am sharing success stories of some of the beneficiaries of the project:
Ms. Atiqa comes from a remote area in district Kasur in Punjab. She has done masters in Business Education but since she had no hands-on skills to get a job or start business to earn for her family. She had robust passion and interest for fashion designing. So, after graduation, she moved to Lahore where she got six (06) months training on draping, figure illustration and stitching under PSDMD from Pakistan Knitwear Training Institute (PKTI). After completion of training, she has started her own online business Tasmir Atire and earning PKR 30,000 per month. She thanks PKTI and JICA for providing her such an auspicious opportunity of learning and transformation.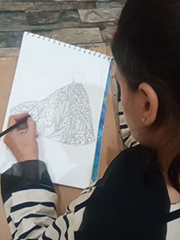 Atiqa sketching dress design: Photo Credit: PKTI
Ms. Sidra Kousar, from Lahore, is another beneficiary of graphic designing training got through PSDMD from PKTI. The course has enabled her to join a Japanese company USS Tokyo as designer earning PKR 35,000 per month.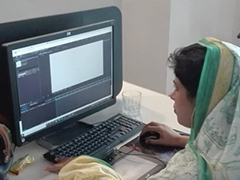 Sidra drawing designs and making illustrations on computer: Photo Credit: PKTI
Ms. Aqsa Zahid is from Lahore and eldest among her siblings. She wants to become helping hand for her family. It really becomes a challenge in Pakistani society to find work without practical skills. While continuing her bachelor's degree, she already started to look for a practical skill learning which could help her to earn a stable financial position. One of her friends told her about free courses of Pakistan Readymade Garments & Technical Training Institute (PRGTTI), Lahore.
She received six months training on quality assurance and control under PSDMD project at PRGTTI. Aqsa claims that this training, her best decision of the life so far because just one course employed her at one of the best garment industries of Lahore. She is earning a handsome livelihood now with respect while working in a highly professional environment.
She is now looking forward to completing her bachelor's degree while being on the job and wishes to grow her career in garment industry. Aqsa proudly shares that "people who used to question my parents are now presenting me as an example to follow for their children". she is of firm belief that interventions like technical trainings are promoting skillful youth especially women leading to empowered nation.