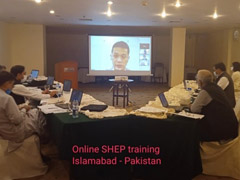 Amidst the lack of information about the marketing system, demand and supply situation in the markets, small scale farmer in agriculture sector in Pakistan are struggling to make the farming a profitable and motivational livelihood option. Disconnect between the farmers and the consumers prevent the farmers, for all practical reasons, to make adjustment in their farming techniques, adapt new knowledge and skill and being innovative to develop new Agri-products up to the satisfaction of the end consumers. This was an observation by Mr. Muhammad Uzair, District Director Agriculture Extension, while representing Agriculture Department of Khyber Pakhtunkhwa in an on-line training organized by JICA's Obihero Training Center in Japan for participants from South Asia region Including, Bangladesh, Bhutan, Nepal, Sir Lanka and Pakistan.
Due to pandemic of COVID-19, JICA organized this training program on-line and participants from the selected countries from the South Asia Regions attended. Five government officers form Ministry of National Food security and Research, Pakistan Agriculture Research Council and Agriculture Department of Khyber-Pakhtunkhwa were among the participants who attended this training program.
This Two weeks long training program on "Market Oriented Agriculture Promotion" was designed on "SHEP" approach that stands for Smallholders Horticulture Empowerment and Promotion. This approach was developed by JICA initially in Kenya through a series of technical cooperation projects. After its success in Kenya, "SHEP" approach was promoted in many other countries in Africa and South Asia including Nepal and Bangladesh and was found instrumental in increasing the income of the small farmers significantly. The overall "SHEP" approach is based on the economic concept "Mitigating Information Asymmetry" that is about minimizing the information gap among the farmers and "Self- Determination Theory" as a tool to motivate farmers. This approach drives the farmers in agriculture sector to shift their farming stagey to "Grow and Sell" to "Grow to Sell" and make the farmers empowered enough to make their farming decision with greater sense independence and confidence.
During the first week (October 12-16), the participants were exposed to the basic understanding of the "SHEP" approach giving opportunities to understand the implementation of this approach in African countries and Japan by JICA. The participants were also able to reflect on the agriculture and farmers situation in their respective countries. Participants also exchanged their experiences through interactive sessions and country presentations. At the end of the first week, participants from Pakistan were of the view that 'SHEP" approach can be helpful in Pakistan to improve the quality of the extension services as well as increasing the adaption rate among farmers with respect to new knowledge and skills contributing to their income and improved life style. After two weeks break, there would be second session are planned on November.