Completion ceremony for "Project for Restoration of Livelihoods in the Merged Areas of Khyber Pakhtunkhwa (Phase II)" funded by Government of Japan and JICA took place today in Islamabad
Japan's grant of US$ 5.3 million was extended in collaboration with FAO Pakistan to support restoring livelihoods of over 50,700 households in Khyber and Kurram Districts in KP Province, where once many people were displaced due to insecurity.
The project focused on adopting climate-smart and resilient agricultural interventions, including the dissemination of improved practices for increasing livestock, poultry and inland fisheries' production, introduction of efficient water harvesting methods, and rehabilitation of irrigation structures, and executed Integrated Natural Resource Management (INRM) plans. Furthermore, the project also contributed to enhance agricultural productivity and value addition, and develop key value chains and functional markets for sustainable food supply and improved nutrition.

Group photo of the participants with chief guest of closing ceremony of Japan funded Project "Restoration of Livelihood of Merged Areas of Khyber pakhtunkhwa Province (Phase II)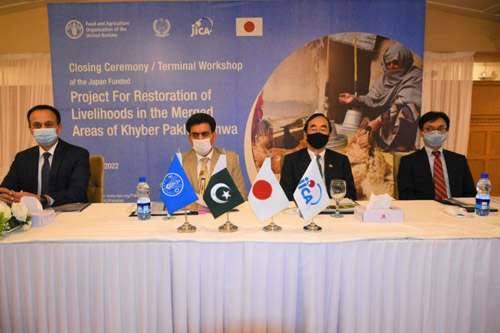 (From the left) FAO Deputy Rep, Secretary of KP Gov., HE Ambassador of Japan, JICA Chief Rep."