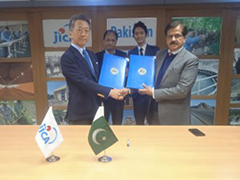 Mr. Yasumitsu KINOSHITA and Mr. Ahmed Kamal at the signing ceremony
Islamabad, 22 February 2023: Record of Discussions of the basic framework of "the Project for Capacity Development of Effective River Dikes Management Response to 2022 Flood", was signed between Mr. Yasumitsu KINOSHITA, Chief Representative, Japan International Cooperation Agency (JICA) Pakistan Office, and Mr. Ahmed Kamal, Chief Engineering Advisor/Chairman Federal Flood Commission (FFC), Ministry of Water Resources Islamabad.
The 2022 flood was caused by the monthly rainfall amount of 1,500 mm at the downstream of Sukkur on the Indus River, which is characterized as a dry area with the average annual precipitation of about 100 mm. In response to such an abnormal climate event, it is imperative to understand the effect of climate change. There is still a potential for river dikes to be damaged, or collapsed, due to a flood that is likely to occur with a high frequency and it is also indispensable to prevent the river dikes from further breaches by managing them appropriately. Therefore, the project aims at an effective river dike management while taking the effect of climate change into account.
The project enhances the capacity of FFC to manage river dikes along the Indus River downstream of Tarbela dam. It is expected that, under this project, river dike management by FFC is improved in line with its notified functions to contribute to future flood risk reduction.
Pakistan has a high frequency of natural disasters such as floods, landslides, cyclones, and earthquakes. Quite notably, every year, Pakistan experiences heavy damages to the large parts of the country due to floods triggered by heavy rains during the monsoon season.
Through this technical cooperation, the Government of Japan and JICA continues to extend its cooperation in Pakistan for strengthening the disaster risk management of the Government of the Islamic Republic of Pakistan.