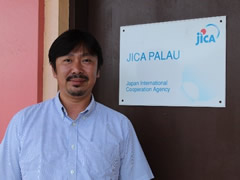 Alii(Hello)
Welcome to our site. My name is Ryutaro Kobayashi and I am the Chief Representative of JICA Palau office.
In 1994, Palau became an independent nation. Three years later, in 1997, JICA opened an office here in Palau. Since then, JICA has been implementing various kind of grant aid such as Japan-Palau Friendship Bridge (KB Bridge) representing the bridge construction sector, road construction/rehabilitation, and water supply facilities. JICA has also implemented technical cooperation in the field of waste management, ecosystem conservation centered on coral reef, etc. In addition, in the volunteer scheme, a total of 270 members of JICA Volunteers have been dispatched in the fields such as mathematics education, sports, health, environment conservation, and infrastructure management. The dispatch of trainees to Japan and third world countries is also active, 267 Palauan have participated. In recent years, projects have been carried out in collaboration with the private sector, such as the expansion work of Palau International Airport. Many grassroots technical cooperation with local governments and NGOs have been implemented.
In January 2021, JICA upgraded the status of existing "branch office" to "representative office" to strengthen the Palau office function. In addition to increasing the office space by the end of this year, we plan to increase the number of staff for both Japanese and Palauan. Taking this opportunity, we will make further efforts to formulate new cooperation projects between Japan and Palau.
Unfortunately, the COVID-19 pandemic that started last year had a great impact on the Palauan economy, which relies on the tourism industry. The activities of JICA volunteers were forced to stop in March 2020. Since then, dispatch has not resumed for over a year. In addition, the travel of Japanese experts and mission teams, and Palauan trainees continue to be severely restricted.
However, we are hopeful that our activities will resume. From April 2021, the Palauan government decided to resume regular flights with Taiwan. Vaccination is also progressing, and as of April 2021, about half of the population have been fully vaccinated in Palau. It can be said that the efforts of the Palauan government materialized in the global pandemic. JICA will grasp this opportunity and make efforts to resume the dispatch of JICA volunteers and other JICA related people, and to make JICA projects more active in Palau this year. It is our goal for this year in Palau.
At the end of the week (April 16th) when I arrived in Palau and started working after quarantine isolation, Typhoon Surigae struck, downing Palau lifelines such as electricity, water, and mobile phones. Communication services were temporary shutdown throughout Palau, and as of now (April 23), restoration continues in remote areas. On April 20, the Government of Japan and JICA decided to provide emergency relief goods, which was my first biggest task in my appointment in Palau. It was an event that made me realize that JICA activity is strongly expected in Palau, and I feel a great sense of mission.
From now on, as the Chief Representative of JICA Palau, I will not forget this sense of mission and will continue to make effort every day.
2021 April 23
KOBAYASHI Ryutaro
Chief Representative,
JICA Palau Office