Date
5.06.2014 10:00-12:00
Venue
Morobe Provincial office of the Department of Works
Participants
DoW
Jeffrey MANDAU / Civil Engineer of PTD
Kingsford KASSEN / Provincial Works Manager
Cecil AUTI / Provincial Plant Manager
Joseph POLANALA / Provincial Plant Manager
Other 14 particiants.
JICA Expert team
Hisashi Muto, Mikio Orikasa, Yukio Kohsaka, Atsuo Akema, Hiroshi Ueda, Yasuo Nakada
Purpose of the meeting: Discussion on the selection of pilot project site in Morobe province in this year and contents of the training with DoW and JICA expert team.
Select Bukawa Road as the first pilot site in 2014 in Morobe province because the effectiveness of road maintenance is high and also the road is almost flat and accessibility from the city center is good.
Leron Wantoat Road is the second choice and need further investigation and consideration because the distance from the Lae city center is far and the road condition is very bad for the first project.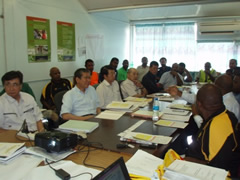 Kick-Off Meeting at the Provincial office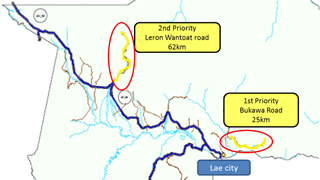 Pilot sites in Lae
DoW and JICA expert team will conduct a workshop on Friday13 June for local communities around the pilot site in order to get a better understanding of communities to the pilot project for smooth implementation of the work.
Explanation about the training for civil section in this year and conducted the baseline survey in order to understand the current ability of employees of civil section.
On the following day(6th, June), site inspection of Bukawa Road with a civil engineer of DoW has been carried out to decide the place of a camp site and confirmed the road width in order to avoid the problem of land ownership and implement proper maintenance work.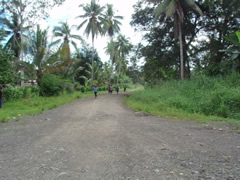 Bukawa Road
Measurement of road width