1. Scheme
Grant Aid
2. Counterpart Organization
Department of Works (DoW)
3. Project Duration
2012 ~ 2016
[11/Mar/2014 – Handing over ceremony]
4. Introduction
This project is implemented by the Plant and Transport Division (PTD) of DoW. The PTD is in charge of operational management of construction equipment and performs the leasing of the equipment to the Operation Division, as well as maintenance and repair.
For sustainable national roads maintenance and restoration of roads after a disaster, equipment owned by DoW is insufficient in amount and old. Therefore, the DoW outsources the maintenance work to private contractors. However, due to the limited number of private contractors particularly in rural areas and high costs of the work, the maintenance work is currently only being carried out for about 10 percent of national gravel roads. For the rural communities at the highest disadvantage to date, the provided equipment can now be utilized to maintain deteriorated and impassable roads by DoW.
Along with this Grant Aid Project, DoW and JICA jointly initiated a Technical Cooperation Project "The Project for Capacity Development on Road Maintenance" last year. Through this project, a series of trainings are provided to operators, mechanics and engineers in four Provinces where the equipment is provided and a certain sector of roads are maintained using the equipment and trained DoW staff as a pilot project.
5. Provided Items
48 Heavy equipment (JPY 864 million: equivalent to PGK 23 million)
Breakdown:
Bulldozer(4), Excavator(4), Motor grader(8), Wheel loader(4), Vibrating roller(4), Sprinkler truck(4), Dump truck(16), Mobile workshop(4) and spare parts
6. Target Provinces
Morobe Province, Western Highlands Province, East Sepik Province, West New Britain Province
7. The Snapshots of the Project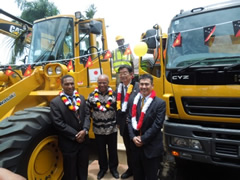 L-R: Acting Secretary Mr. David Wereh, Minister Hon. Francis Awesa, Japanese Ambassador H.E. Hiroharu Iwasaki (Hashi) and JICA PNG Chief Representative Mr. Shigeru Sugiyama are posing in front of the project's new equipment on 11/Mar/2014.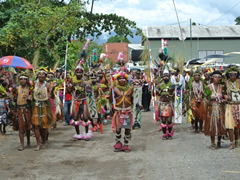 The handing over ceremony was held in PNG's traditional cerebrating style of "singsing".

Provided heavy equipment. The equipment is going to be utilized in technical cooperation project which is called "The Project for Capacity Development on Road Maintenance".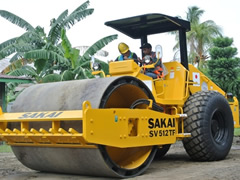 Conducting the vibrating roller training to the DoW staff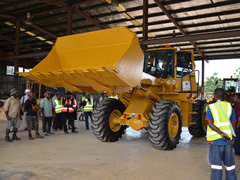 Conducting the bulldozer training to the DoW staff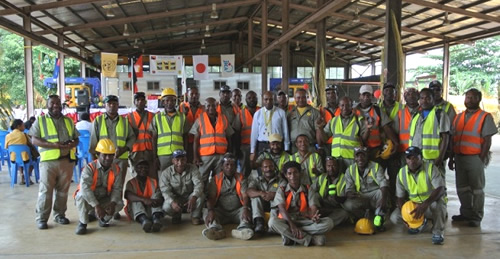 DoW staff from HQ and provincial offices
8. More Information
9. Recent Activities
11/Mar/2014 Handing over ceremony