Project officers with the Capacity Development Project for Operationalization of PNG Forest Resource Information Management System (PNG-FRIMS) for Addressing Climate Change (PNGFA/JICA Project) conducted a field visit to its pilot site from 30th April to 5th May, 2017. The Project has pilot sites in two provinces, West New Britain Province and West Sepik Province. This time the Project officers visited Aria Vanu Blk2 in West New Britain Province shown in Figure 1, and implemented the actual monitoring of the logging project by utilizing GPS (Global Positioning System) and GIS (Geographic Information System).
Field officers of PNG Forest Authority (PNGFA) monitor logging projects operated by private companies according to the regulations as stipulated under the Forestry Act, 1991 (as amended).. The PNGFA/JICA Project specified some check items in the regulations, which could be monitored better with GPS and GIS at a workshop for better monitoring of logging projects, held last June in PNGFA HQ. After the workshop, the PNGFA/JICA Project conducted several trainings focused on the basic operation of GPS and GIS mainly in PNGFA headquarter and the Project Pilot Provinces. The purpose of this visit was to see the PNGFA field officers put to practice the skills acquired through PNGFA/JICA Project Trainings.
From 1st to 2nd May, field officers took necessary information by GPS according to the check items specified in the PNGFA/JICA Project workshop held last year. The following activities were observed/undertaken in the field:
The officers took photos' of facilities and boundaries of logging sites and linked location information to photos on GPS smoothly. We could confirm an effect of PNGFA/JICA Project Trainings conducted to date.
After that, officers made monitoring reports based on GPS data obtained in the field. Officers seemed to need a little more training for operation of GIS, however they were getting used to it while they were making monitoring reports.
After the field visit, on 5th May, 2017, the PNGFA/JICA Project officers held a meeting in Kimbe town, West New Britain Province with officers in Area Office – West, PNGFA, to discuss the usefulness of the monitoring reports. In the meeting, field officers explained about the monitoring reports they made during the field visit and exchanged opinions with other officers. It was established that the monitoring reports were useful in that: 1) it enhanced the accountability of tasks in PNGFA; 2) it certified the compliance of developers; and 3) it ensured the transparency of logging projects.
The PNGFA/JICA Project is planning to conduct a similar kind of field visit in the other pilot site in West Sepik Province in the near future.
Figure 1: Location of Aria Vanu Blk2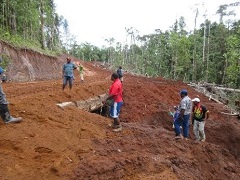 Monitoring in the field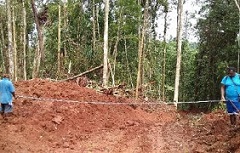 Monitoring in the field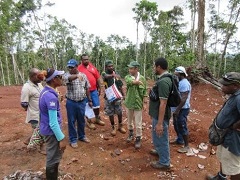 Consultation with officers in the field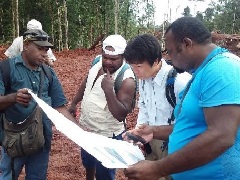 Consultation with officers in the field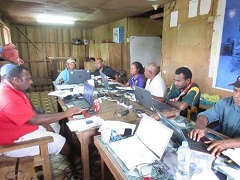 Making monitoring report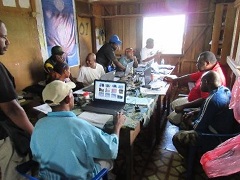 Making monitoring report
Presentation for monitoring report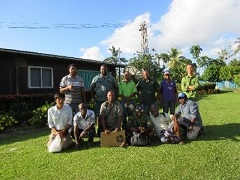 Participants group photo