Project officers with the Capacity Development Project for Operationalization of PNG Forest Resource Information Management System (PNG-FRIMS) for Addressing Climate Change (PNGFA/JICA Project) conducted a field visit to its pilot site from 12th to 21st June, 2017. The Project has pilot sites in two provinces, West New Britain Province and West Sepik Province. Following a field visit to West New Britain conducted in May, this time the Project officers visited 'Amanab Block 1-4 and Imonda FMA project' and 'Bewani FCA project' in West Sepik Province shown in Figure 1, and implemented the actual monitoring of the logging project by utilizing GPS (Global Positioning System) and GIS (Geographic Information System).
PNGFA monitors forest clear felling operations which aim to convert forestland to agricultural land such as oil palm plantation under the FCA (Forest Clearance Authority) license. In this training, officers from Sandaun Provincial Forest Office and Momase Area Office in Lae made trial monitoring for considering better monitoring of clear cutting operations as well as selective logging operations with GPS and GIS.
From 14th to 15th June, field officers conducted monitoring of the logging operation by GPS in 'Amanab Block 1-4 and Imonda FMA project'. To be concrete, they took photos and location information for log landings and logging roads and calculated the area size of log landings by GPS. Followed by monitoring in 'Amanab Block 1-4 and Imonda FMA project', field officers also conducted the same type monitoring in 'Bewani FCA project' on 17th June. From 18th to 19th June, field officers prepared monitoring reports based on GPS data collected in the field. During this exercise, officers learned not only to write monitoring reports but also how to choose appropriate spatial information depending on the object to monitor.
A meeting was also held with the head of Sandaun Provincial Forest Office, to discuss the usage of the monitoring report with GPS and GIS. Comments made by participants were as follows:
Field officers could easily acquire accurate positions of example: logging roads with GPS and write easy-to-understand reports;
Officers in area and provincial forest offices can understand the situation and progress of a logging operation through the monitoring report;
The monitoring report will be useful to report damage of forest and roads by natural disasters such as flooding. It should be attached to the current periodical reports; and
The monitoring report should be an attachment of monthly reports currently submitted by field officers to provincial and area offices.
The PNGFA/JICA Project is planning to hold a Project workshop in this August. Project outputs will be presented to relevant officers and stakeholders in the workshop.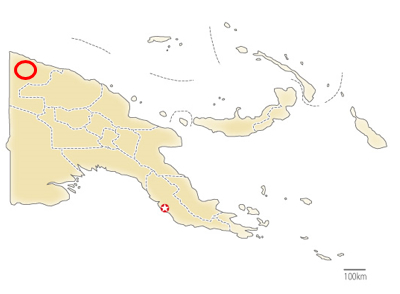 Figure 1: Location of Pilot sites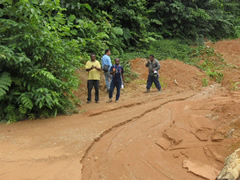 Monitoring in the field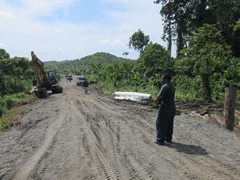 Monitoring in the field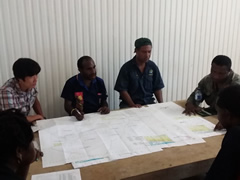 Consultation with officers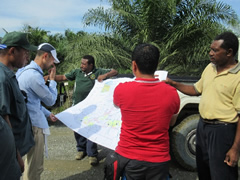 Consultation with officers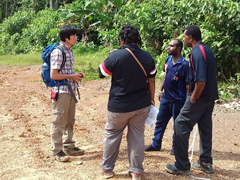 Consultation with officers in the field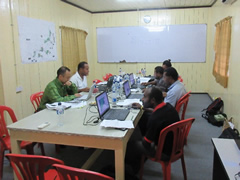 Making monitoring report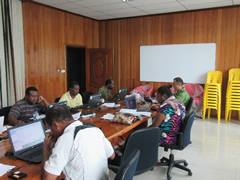 Making monitoring report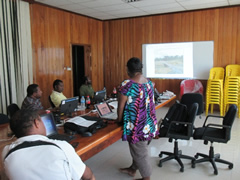 Presentation for monitoring report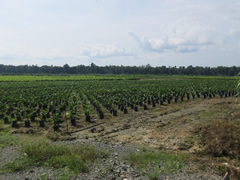 Oil palm nursery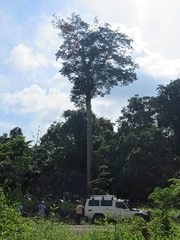 A central tall tree is a dominant species in this region. It is called kwila in PNG and traded at a high price in world market.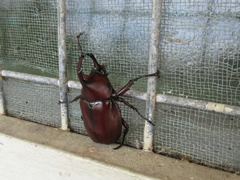 A beetle in a logging camp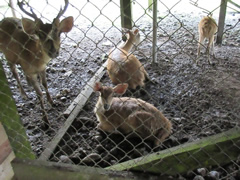 There are many wild deer in this region. Deer in picture are bred for food in a logging camp