The Project workshop of the Capacity Development Project for Operationalization of PNG Forest Resource Information Management System (PNG-FRIMS) for Addressing Climate Change was held on the 1st August, 2017 in the Boardroom of the headquarters of the PNG Forest Authority (PNGFA) in Port Moresby. The workshop participants included officers from PNGFA HQ, Area Office – Southern and West New Britain, West Sepik Provincial Forest Office, developers operating logging projects in Project pilot sites, JICA PNG Office and Japanese experts of the Project. The Project is aiming to improve the national forest plan, provincial forest plans, forest management plans and their monitoring system, and the Project has been making an effort to improve them through conducting several trainings for GPS (Global Positioning System), GIS (Geographic Information System) and LAN Map[1]. The objectives of the workshop were 1) to present the progress of Project activities and 2) to exchange views on the Project activities.
At the beginning, Managing Director for the National Forest Service of the PNGFA, Mr. Sabuin congratulated the project team for making progress in the Project and expressed his further expectation for the Project.
Subsequently, a JICA expert made a presentation on the progress of the Project and the objectives of the workshop. This was followed by some counterparts making presentations on the contents below:
Update status of spatial information sharing tool through Internet browser;
New method of evaluation and monitoring of logging operation plans by GPS/GIS and tool mentioned in 1) above;
Utilization of GPS, GIS and LAN Map on Forest Plantation Management and the boundary demarcation support for landowner groups;
Improvement of National Forest Plan and Provincial Forest Plans;
Necessary information for revision of Forest Cover Map
Thereafter, a JICA expert showed the future plans of Project activities.
During the presentations above, the active exchange of opinions was observed and the opinions can be good guides to proceed Project activities in future. The workshop was a good opportunity to 1) gain deeper understanding of the Project outline and the progress for relevant officers and stakeholders, and 2) promote better understanding between PNGFA and developers.
Project Director, Dr. Turia expressed her expectation to see more results and outcomes of the Project in coming years, then thanked all the participants for their participation in the workshop, and closed the workshop.
Note
[1] LAN Map Browser enables PNGFA HQ staff to take advantage of the information stored in Forest Resource Management System through internet browsers for performing their tasks without special GIS skills.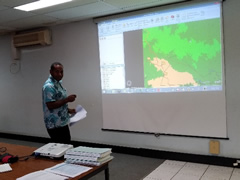 Pictures in workshop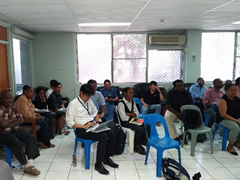 Pictures in workshop
Pictures in workshop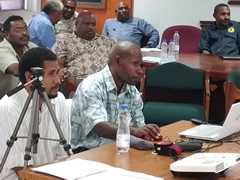 Pictures in workshop