The NCDC-JICA project team received an accolade for their achievements and their dedication to the project in last 4 years at the final (5th) Joint Coordination Committee (JCC) meeting held on 24th November 2015. The meeting was attended by project members with Dr Shiro Amano, Chief Advisor of the J-PRISM, who oversees the projects in 11 Pacific Island countries including Papua New Guinea. Although the project is officially ending in February in 2016, most of activities have been completed with substantial outcomes in sight.
NCDC officers of the project team confidently reported the achievements and issues of the outputs they are in charge; (1) operational problems at Baruni and rehabilitation delays; (2) expansion of collection to Segani-Ranuguri settlements; (3) 3R Heart Program and Gerehu Market awareness activities; and an additional report on compositing. Mr Joshua Sam, the Project Manager, summarised the project activities and outcomes, referring to the terminal evaluation conducted in August this year that had already assessed that most of the indicators have been achieved and pointed out the improvement of performance since the mid-term evaluation conducted back in 2013.
Expectation for the project's continuity is high. Mr Michael Wau, Project Director and Director of the Environment Protection Wing of the Conservation and Environment Protection Authority (CEPA) stated on CEPA's vision in the proposed phase 2 project to step up the project from a municipal level to a national level. Mr Veari Kula, Director of Industrial Standards of CEAP emphasised CEPA's proactive role in waste management at a national level and expansion of the hands-on experiences of NCDC to all the regions in PNG.
Overall, the JCC expressed its satisfaction with the project's achievements and ended with a high note, sharing a way forward to the next stage of the project.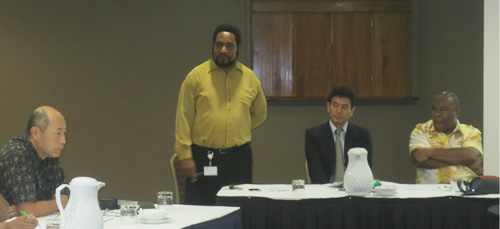 From the left, Dr Shiro Amano (Chief Advisor of J-PRISM), Mr Honk Kiap (Deputy City Manager, NCDC), Mr Shigeru Sugiyama (Chief Representative, JICA PNG Office) & Mr Michael Wau (Director, Environment Protection Wing, CEPA)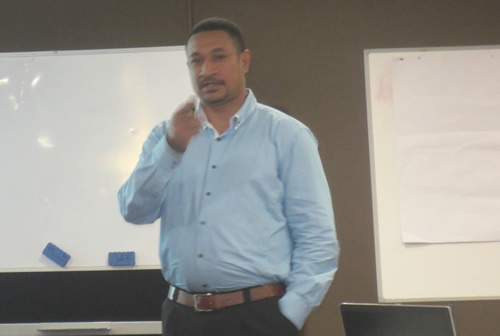 Mr Joshua Sam (Project Manager)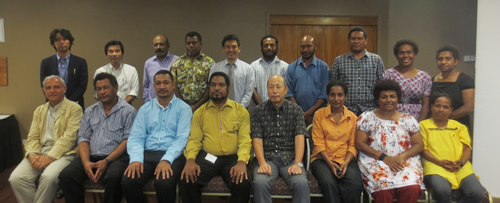 all the participants in the 5th JCC at Kumul Room, Holiday Inn, on 24th November 2015