As a finale of the awareness activities of 3R, the project team awarded three schools for their attainments through their proactive roles to educate students and school staff to create sustainable environments in schools. The award granting ceremony was held at Jubilee Secondary School on 12th November. Mr Honk Kiap (Acting City Manager), Mr Veari Kila (Manager of Industrial Services, Conservation and Environment Protection Authority [CEPA]) and Mr Shigeru Sugiyama (Chief Representative, JICA PNG Office) handed the awards.
Out of the eight schools (Kilakila Secondary, Gerehu Secondary, Hagara Primary, Coronation Primary, Bavoroko Primary, Jubilee Secondary, Waigani Primary and Wardstrip Primary) in the national's capital, Port Moresby, which have participated in the 3R HEART Program, the following three schools have won the prizes.
First prize: Waigani Primary School, awarded with 15, 000. 00 Kina prize money for waste disposal goods that will be purchased by NCDC's Waste Management Division.
Second prize: Hagara Primary School, awarded with 10 Wheelie Bins and supply of waste disposal bags, and gloves for one year 2016.
Third prize: Jubilee Secondary School, awarded with10 standard bins.
In addition to those awards, Mr Kiap pledged a full band set for the music class at Jubilee Secondary School. Furthermore, Mr Joshua Sam (Manager of the Waste Management Division, NCDC) pledged to purchase the 3R theme song which was written, composed and sung beautifully by a student group of Jubilee Secondary School to make it an official theme song of the 3R HEART Program. It has been also announced that the 3R HEART Program has now been officially inaugurated into the Waste Management Divisional Yearly programs. The ceremony was ended with a high note with appreciative remarks of representatives of the schools and their renewed determination to keep up the 3R activities in their respective schools.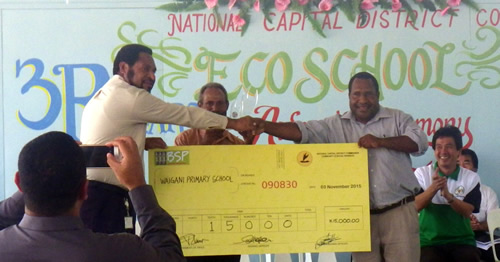 Mr Honk Kiap (Acting City Manager) handing the 1st Prize to the representatives of Waigani Primary School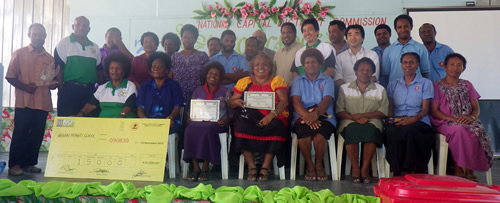 All the awardees in the front row and project team members and representatives of NCDC, CEPA and JICA in the second row