1. Scheme
Technical Cooperation
2. Counterpart Organization
Department of Petroleum and Energy (DPE)
PNG Power Ltd (PPL)
3. Project Duration
2014/10 ~ 2016/10
4. Introduction
PNG has demonstrated steady economic growth largely due to the recent boom in the energy sector. This has also led to an increase in the demand for domestic power and this trend is likely to grow in the foreseeable future. However, PNG has been trapped into chronic power shortage as a result of aging power facilities and maintenance problems.
These problems have significantly affected the overall reliability of the Ramu System that supplies power to the Highlands region and Momase region by causing unstable, interruptive and unpredictable power supply. In fact, the installation capacity for the Ramu System in terms of power generation stands at 188 MW but the actual capacity remains low at 89 MW today. This has adversely affected various commercial activities in Lae, the commercial hub for PNG as well as the largest power consumption city in the region. Stable power supply is essential in normalizing the operation of manufacturers and processing factories and also in attracting foreign and domestic investment in Lae to promote economic integration.
To address the urgent need to stabilize the power supply, the PNG Power Limited (PPL) has taken various measures including preparatory works to construct a new hydro power plant and rehabilitation of the existing power facilities in the Ramu system. JICA has also assisted PPL by implementing the Ramu Transmission Line Reinforcement Project through loan financing. In order to strengthen these collaborative efforts, the Japanese Government has approved the PNG Government's request to formulate the two important plans:
Ramu System Power Development Masterplan
Lae Area Distribution Network Plan
The Ramu System Power Development Masterplan will provide concrete and accurate steps for long-term stable power supply of the system by highlighting the areas of energy and power demand forecast, potential sites for power development, optimum power development plan, system planning, investment planning, and environment and social considerations. On the other hand, the Lae Area Distribution Network Plan will provide structural design of distribution network, environmental analysis, and technical guidance to PPL officers. By the end of the project, these plans are expected to receive formal approval from the Electricity Management Committee, the governing body that determines government power policies in PNG.
5. Target Provinces
7 Provinces (Morobe, Madang, East Highland, West Highland, Chimbu, South Highland, Enga)
6. The Snapshots of the Project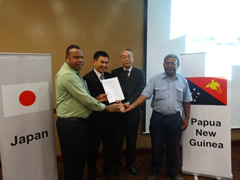 Mr. John Tangit,CEO of PPL, Mr. Shigeru Sugiyama, Chief Representative of JICA PNG Office, Mr. Yukao Tanaka, NEWJEC team leader, and Mr. Alan Lari, Acting Director of DPE stand together at the first joint coordination committee on October 27, 2014.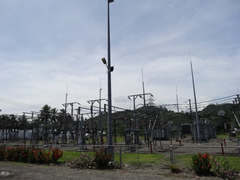 The Taraka substation in Lae plays an important role in power distribution in the area.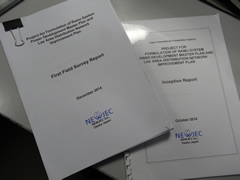 The inception report and first field survey report have been produced by NEWJEC as of December 2014. The release of the final report is scheduled for October 2016.
7. More Information
8. Recent Activities