The Inception Workshop for Bootless Bay marine conservation initiative was held at Motupore Island located in the suburbs of Port Moresby, the capital of Papua New Guinea on 16th August 2016 by CEPA-JICA Project. This workshop focused on one of the project outputs, "A model of establishing a new marine protected area (PA) is developed as per the provision of Policy on the Protected Areas (PPA) and concerned laws". It was attended by 33 invitees from University of Papua New Guinea (UPNG), Central Papua Conference of Seventh Day Adventist (SDA) Church, National Capital District Commission (NCDC), Dive Center, Gerega Community, Tubuseria Community, Central Village Environmental Services, Hiri Local-level Government (LLG), Office of Coastal Fisheries & Development Agency, PNG Tourism Promotion Authority (TPA), and EMTV (Papua New Guinea's television station).
The workshop highlighted several issues that include environmental degradation causing ecological imbalances, influx of human settlements along the narrow coastal fringes, overfishing in the mangroves and inter-tidal zones, and proposed major developments including a new wharf, and a fuel terminal, amongst others. It was also identified that there is no coordinated effort from bottom up or top down planning for consideration in order to effectively address these issues so that no harm is imposed on the fragile marine environment.
Some key recommendations were discussed at the workshop to address these problems. One of these recommendations was the establishment of the stakeholder network for Bootless Bay marine conservation . The workshop participants agreed to establish the stakeholder network. The CEPA-JICA Project will have series of workshops and information exchange. It was expected that a working group to establish marine protected area will be organized under the network to share its progress.
Also, CEPA-JICA Project showed proposal of zoning for Tahira mangrove area, where is the proposal site of marine protected area. SDA who hold land title of the area, UPNG who has conducted scientific survey in the area and CEPA-JICA project confirmed that the proposal will be discussed further.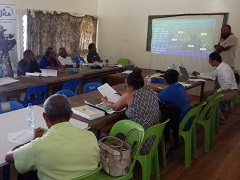 Presentation by CEPA officer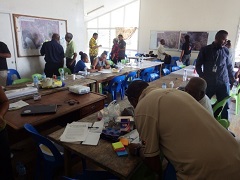 Group discussion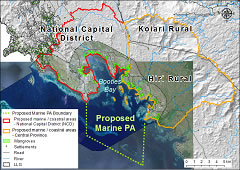 Location of proposed marine PA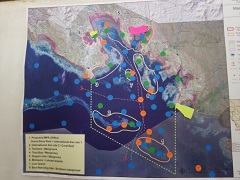 International dive site (orange dots), UPNG research site (green dots), and Customary / traditional fishing ground (blue dots) were identified by participants.