An Inaugural Ceremony of equipment for Output 3 "A model of establishing a new marine protected area is developed as per the provision of Papua New Guinea Policy on Protected Area" was held at Tahira Boating Center of University of Papua New Guinea in order to let the stakeholders know our activity widely. Boat, motor, diving equipment, and field survey equipment were shown to the participants. There were thirty participants from Conservation and Environment Protection Authority (CEPA), University of Papua New Guinea (UPNG), Dive Center (private dive shop), Gerega communities and Coastal Fisheries Development Authority.During the inaugural ceremony opening, Prof. Simon Saulei on behalf of the Vice-Chancellor of UPNG, Chief Technical Advisor Mr. Koji Asano, Director for Sustainable Environment Program, CEPA (Project Manager) Ms. Kay Kalim, Mr. Maino Virobo on behalf of Managing Director of CEPA (Project Director) made speeches. After the opening prayer, the first speaker, Prof. Saulei welcomed the participants to Tahira Boating Centre. Professor said that it was good to build partnership and relationship with all stakeholders that had a stake in Bootless Bay so that their interests in the bay can be paid attention too.
Mr. Asano said that the CEPA-JICA Project was grateful to JICA for funding the new equipment and that it was timely for the project.
Ms. Kalim responded and thanked everyone for attending and also thanked UPNG for allowing the use of the venue and the staff for preparing the venue. She said that the project started last year and has a long way to go yet and the equipment funded and donated by JICA would assist very much in progressing the MPA concept under the project.
Mr. Maino Virobo responded and also thanked the people and government of Japan for their kind support and looked forward for further mutual cooperation. "On behalf of the Government of PNG and CEPA, I hereby launched the boat and Engine and marine survey equipment and accessories" said Mr. Virobo.
Following these speech, the equipment was on display. The participants looked at the equipment interestingly. T-shirts for Output 3 of public relation were distributed at the end, and the ceremony closed.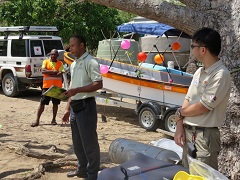 Mr. Bernard Suruman as the Master of Ceremonies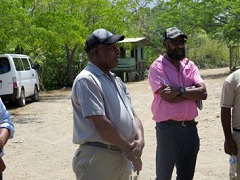 Prof. Simon Saulei making a speech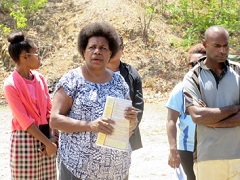 Ms. Kay Kalim (Project Manager) making a speech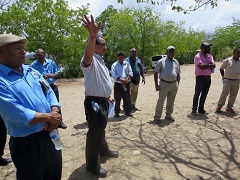 Mr. Maino Virobo (Co-Project Manager) making a speech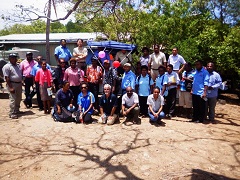 Group photo in front of the new Boat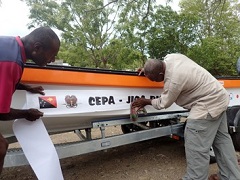 Project boat