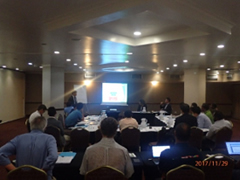 Mr. Asano, JICA expert making a presentation about management framework of VNP
The 3rd JCC meeting was held at the Holiday Inn in Port Moresby on 29th November 2017. Ms. Kumaras Kalim, the Director of Sustainable Environment Programs, Conservation and Environment Protection Authority (CEPA), who is the Project Manager, was appointed as the Chair of the meeting, on behalf of Mr. Gunther Joku, the Managing Director of CEPA, and Mr. Takashi Toyama, the Chief Representative of the JICA PNG Office, was appointed as the Co-Chair. Representatives from the Central Provincial Administration, Hiri Local-level Government (LLG) and Koiari LLG were present as members. Also, representatives from Kokoda Initiative and Indo-Pacific Conservation Alliance were present as observers.
In the JCC, JICA Expert Team presented the Project update 2016-2017, the Project Plan 2017-2020, and other relevant issues; management framework of Varirata National Park (VNP) along with new Information Center Complex and results of facility development in VNP at revival stage. Then, Dr. Allen Allison from Indo-Pacific Conservation Alliance gave a presentation about brief introduction of VNP biodiversity survey, which is ongoing under the Project.
Mr. Shigefuji from the monitoring mission of JICA HQ made a presentation. There are only few issues spelled out by the project monitoring and evaluation team but overall, the performance and achievement of the Project are impressive.
Finally, the Chair mentioned that she is looking forward to working with CEPA, JICA, Koiari LLG, Hiri LLG and Central Provincial government, including other partners together.