1. Scheme
Grant Aid
2. Amount of Grant
One billion four million Japanese Yen (JPY 1,004,000,000), almost equivalent to twenty six million kina (PGK 26,000,000) in 2013
3. Counterpart organization
National Fisheries Authority (NFA)
4. Introduction
4.1 The Agriculture, Forestry and Fisheries Sectors in Papua New Guinea contributing 27.9% of GDP (2012). The Agriculture sector sustains the livelihood of 75% of the total population in Papua New Guinea. Most activities in Papua New Guinea focus on smallholder rice and vegetable faming, poultry, piggery and fishery for domestic consumption. Surplus production of cash crops is sold at local markets in exchange for valuable cash.
4.2 The Madang Market functions as a retail market primarily for agricultural and fishery products for local town residents and as well for villagers from the isolated districts of Madang Province. The Madang Market also receives vendors from nearby provinces particularly from the remote islands and highland districts. However, the existing facilities at the Madang Town Market have deteriorated and are in poor conditions. A survey of the market confirmed noticeable damages to roofs tops and benches, insufficient market space, poor drainage and sewage system. The standby rubbish bays located at the market are in poor condition and do not have the capacity to store the increasing amount of rubbish disposed by market vendors and the general public using the market. As a result, a large quantity of rubbish accumulates at the market causing unhygienic conditions for local vendors and residents using the market. Most parts of the market are unpaved resulting in poor mobility and unhygienic conditions especially during rainy season.
4.3 To address the deteriorating conditions of the Market, the Government Papua New Guinea through the Madang Provincial Government and the National Fisheries Authority agreed to seek Grant Aid assistance from JICA. This project is expected to improve the distribution of agriculture and fisheries products by providing a safe, clean and accessible market with appropriate infrastructure to boost economic and retailing activities for local residents/businesses.
4.4 The Project will refurbish the market including the construction of the market administration building , installation of ice storage facilities, construction of a mini kiosk, seawall, market toilets and rubbish bays including exterior fencing and car park for the market.
The Project Plan for Construction are reflected in the table below:
| Market Facilities | Details |
| --- | --- |
| Market Buildings | Retail sections for vegetables, fruits, clothes, crafts, etc. consist of 523 table sales and floor sales units allocated in six buildings |
| Fresh Fish Retail Section | Fresh Fish Retail Section consists of 30 box sales units allocated in one building |
| Ice Storage/Sales Facilities | Ice Sales Office and Ice Sales Room are allocated in one building, containing 1 unit of chest freezer, 1 unit of ice crasher and 1 unit of ice scale |
| Administration Building | Market Supervisor Office, Accountant Office, Staff Room, Storage Room, Hallway/Pantry, Retailers' Storage, Multifunction Space and Exterior Connecting Passageway are allocated in one building |
| Market Toilets | Women and Gentlemen Toilet, Admission Counter, Accessible Toilet and Administrative Staff Toilet are allocated in one building |
| Gatehouse | Retailers' Gate, Main Gate and Lagoon Gate are allocated in three respective buildings |
| Exteriors | Unloading Space, Standby Rubbish Bays, rainwater drainage, septic tank, infiltration inlet, etc., and concrete pavement for roads and Car Park, etc. and interlocking pavement on the premises |
| Seawall | Embankment-type of vertical concrete seawall, apron and wave return wall, including stair-shaped part and nine mooring rings |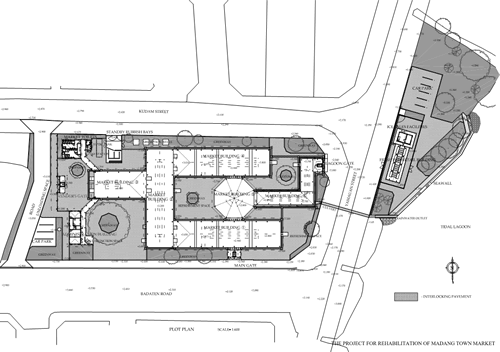 Outline Design Drawing
5. The Snapshots of the Project
The Exchange of Note (E/N) was signed in Tokyo, Japan on 25th October 2013 between Minister for Foreign Affairs and Immigration, Hon. Rimbink Pato and Japanese Parliamentary Senior Vice-Minister for Foreign Affairs, Mr. Norio Mitsuya.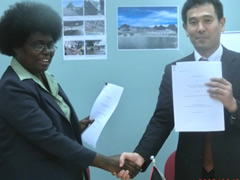 The Grant Agreement was signed in Port Moresby on 29th October 2013 between Acting Secretary of Department of National Planning and Monitoring, Ms. Juliana Kubak and Chief Representative of JICA Papua New Guinea Office, Mr. Shigeru Sugiyama.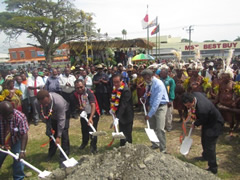 The Ground Breaking Ceremony was taken place on 16th March 2015 attended by Governor of Madang Province, Hon. Jim Kas, Japanese Ambassador to Papua New Guinea, His Excellency Morio Matsumoto, Chairman of National Fisheries Authority, Mr. Job Pomat, Chief Representative of JICA Papua New Guinea Office, Mr. Shigeru Sugiyama, and other dignitaries.
6. More Information
Preparatory Survey Report on the Project for Rehabilitation of Madang Town Market in the independent state of Papua New Guinea