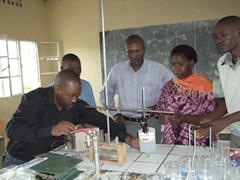 Secondary school teachers learn hand-on skills through laboratory experiment during their training
Rwanda aims for social and economic development through human resources development in science and technology. The country's Science and Technology Strategic Framework in Education targets teachers' capacity building by implementing and systematizing nation-wide teacher training. In close coordination with the Ministry of Education (MINEDUC), the project sets up In-Service Education Training (INSET), and provides training of trainers (ToT) to teacher trainers and teaching training to mathematics and science teachers in secondary school across the country. The project aims at strengthening educational capacities in mathematics and science, in addition to improving teachers' skills and institutional capacities.
Teacher trainers learn theoretical approaches during their ToT at Lycee de Kigali

Baseline Survey: A survey was conducted to evaluate the current situation in teaching quality and environment. Insufficient laboratory equipment and teaching materials and lack of opportunities for science experiments, as well as the common practice of the teacher-centered method, were identified as immediate challenges to be solved.
Establishment of INSET Centers: Eleven schools were selected as INSET Centers. One school was identified as a National INSET Center, where core trainers provide trainings to 88 trainers who will conduct training to secondary school teachers.
Workshop: A national sensitization workshop was organized to introduce the SMASSE Rwanda project and share in-service training plans. The participants included eight core trainers, the Teachers Service Commission (TSC) and the National Curriculum Development Centre (CDC), as well as 88 trainers for 2300 mathematics and science teachers at the district level.
Second National INSET: The second national capacity training of teacher trainers was successfully conducted (Training of Trainers: ToT). A total of 88 trainers attended the training, who conducted trainings to secondary school teachers in the eleven district INSET Centers.
Second District INSET: The second national capacity training of 1500 teachers in science and mathematics were successfully conducted.
This project is a replication of the SMASSE Kenya Project and is supported by the Strengthening of Mathematics and Science Education in Western, Eastern, Central and Southern Africa (SMASE-WECSA).