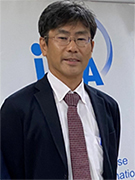 The JICA regional office in Senegal is responsible for six other neighboring countries in West Africa. These six countries, namely Cape Verde, Gambia, Guinea, Guinea Bissau, Mali and Mauritania, represent an economic zone of more than 50 million inhabitants out of the 300 million inhabitants of the Economic Community of West African States (ECOWAS) composed of 15 West African countries. ECOWAS, which applies a common external tariff and aims to introduce the single currency, creates a huge common economic area with a population of over 300 million. Promoting the free movement of goods, people and capital under stability and peace throughout the region helps to stimulate the entire regional economy. The JICA Senegal office, from the westernmost tip of the African continent, will support these sub regional efforts and initiatives in collaboration with other JICA offices.
Political stability is a major feature of Senegal, making it one of the few stable democracies in West Africa. The country's spirit of hospitality, known as "Teranga", is also at the basis of solidarity and therefore of the stability of the Senegalese society.
In the context of this political and social stability, Senegal has firmly established itself in Africa, attracting a large number of foreign investments and moving from an agricultural country to an economy based on service industries.
The country has also seen remarkable growth in recent years. Natural gas and oil exploration, scheduled to begin in 2023, will undoubtedly make it a middle-income country by 2030.
However, it should be noted that vulnerable groups are constantly under threat because of the widening disparities between urban and rural areas; the spread of COVID-19, which is hampering economic recovery, and above all because of the very worrying Ukrainian crisis, which has led since April 2022 to price inflation and is likely to lead to a global food crisis.
These successive crises threaten to undermine Senegal's economic and social stability, and we believe that it is essential to work and to provide constant assistance to the Senegalese Government in its efforts to combat poverty and to ensure the survival of the population.
Japan's international cooperation has evolved considerably as Senegal's challenges have evolved: In 1980, JICA opened an office in the capital, Dakar, and began deploying its first three volunteers for Japanese Cooperation Abroad (JOCV). In addition to traditional cooperation such as technical cooperation and non-repayable financial assistance, JICA has also engaged in private sector partnership projects and a wide range of projects ranging from small local initiatives to large-scale infrastructure development.
JICA also addressed issues such as the development of social infrastructure aimed at balanced development between the promotion of economic growth and the provision of inclusive social services. Major projects include harbor commissioning, stabilization of power grids and provision of drinking water through the construction of desalination facilities; the development of agriculture, particularly rice and horticulture and fisheries; and improving the quality of education and health. At the same time, we have also taken into account crosscutting issues such as youth employment and gender. In addition to these priority areas, JICA also supports the private sector in setting up operations. Moreover, in the future we plan to address actively new issues such as upgrading and rationalizing social and economic services by promoting digitalization and other measures.
In addition to Senegal, the other six countries (Cape Verde, Gambia, Guinea, Guinea-Bissau, Mali and Mauritania) are also important partners of JICA, as they all have particular characteristics. For example, Mauritania is a major exporter of octopus; JICA has been contributing to the development of its fishing industry, including octopus fishing, for many years. Cape Verde is an island country rich in tourist resources and receives many tourists from Europe. JICA assistance focuses on the development of vital infrastructure such as power plants, power grids and water supply. The Gambia is developing agricultural cooperation, while benefiting from its close ties with Senegal. Guinea-Bissau remains politically unstable, and a failed military coup took place in 2022. From the standpoint of supporting the so-called fragile states, the JICA will look at what it can do.
Guinea's challenge is to transform its economic structure, which depends on its abundant natural resources: In February 2018, a new JICA base was opened in the capital Conakry, and cooperation expanded in areas such as health and fisheries, in addition to the development of water works, roads and bridges. However, the political instability that has prevailed since 2021 means that the country is currently obliged to assess developments.
Mali, a landlocked country on the edge of the Sahara Desert (Sahel), has suffered from the spread of violent extremism in the Sahel region, political and social unrest and the resulting deterioration of security, especially since 2012. In addition, following two rebellions, political instability continues to threaten the livelihoods of large parts of the country's population. Although JICA's action is currently limited, we plan to provide assistance focused on strengthening the governance that supports the country's stability, with a focus on agriculture and education, which underpin people's lives.
In the West African region, where countries are not necessarily large, it is important to adopt a perspective that promotes an entire sub regional development. As peace and stability is going in the region and the socio-economic environment stabilizes, many Japanese companies will establish themselves in the region, notably in Dakar, and business will expand in neighboring countries. The JICA's role is to create an environment in which good relations between the West African region and Japan are strengthened, in terms of both international cooperation and private affairs.
We will continue to provide you with information on JICA's activities and useful first-hand information on West Africa, and we would appreciate your active requests and opinions.
Dr. MORISHITA Hiromichi,
Chief Representative
of JICA Senegal Office