JICA has been dispatching volunteers to South Africa for just over 20 years. One such volunteer, Mr Kaoru Kusumoto, was working at Gogogo Primary School, a public school in a remote area in Limpopo, from 2018 to 2020. The volunteer helped to demystify Mathematics as seemingly complex subject, and supported grade 6 and 7 learners with skills to better understand Mathematics, especially mental Maths and number sentences, which learners had difficulty with. He voluntarily assisted learners with homework and assignments after hours. He also influenced learners, through example, to develop a passion for sports and games. Through this dispatch, Mr Humbulani Sithagu, who was the principal at the time, had an opportunity to visit Japan and observe teaching and learning in Japanese schools. Now attached to Tshikosi Primary School in the same vicinity, he wishes for JICA to keep supporting South Africa in this way.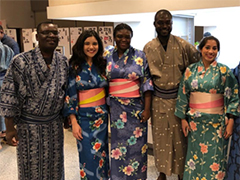 Mr Sithagu, far left, joining fellow participants in wearing traditional Japanese clothing.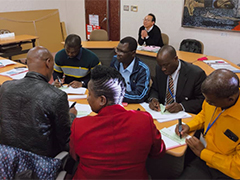 Mr Sithagu, in the striped tracksuit, doing groupwork during a lecture at Hiroshima University.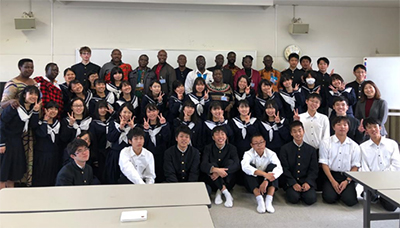 Mr Sithagu, in the white shirt in the back row, with Japanese learners during a school visit.