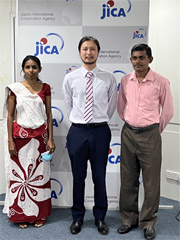 Mr. Okudera with his counterpart Ms. Anusha Priyadarshani, Development Officer and Mr. Amarasinghe, Administration Officer from Kuliyapitiya Urban Council
Mr.Okudera Nobuyuki a new Japan Overseas Cooperation Volunteer (JOCV) arrived in Sri Lanka on the 17th of February 2022, the 70th anniversary year of diplomatic relations between Sri Lanka and Japan.
JICA's volunteer program dispatches eager Japanese citizens who wish to participate in assisting developing countries with economic and social development, deepening mutual understanding and building trust with various communities with different cultural background across the world at grassroots level. Since the introduction of the program in 1981, exactly 1,149 JICA volunteers have served in Sri Lanka up until now. All these volunteers undergo prior training in the languages of their host countries, and with regard to Sri Lanka, they conduct their activities in Sinhala or Tamil, depending on the region they are assigned to.
The new volunteer will be providing services in his specific field of expertise namely environmental education in the Kuliyapitiya. He will be attached to the Kuliyapitiya Urban Council coming under the National Solid Waste Management Support Center of State Ministry of Provincial Council and Local Government Affairs and will serve for a period of 2 years. Currently, three volunteers involved in Western music, baseball, and Japanese language education are active in Colombo. This is the first time to dispatch the volunteer out of Colombo since the volunteer program resumed in August 2021. Sri Lanka Volunteer program will gradually regain its former vibrancy.
He was introduced to their host organization at an assigning ceremony in the JICA Sri Lanka office, which was held on the 14th of March. The occasion was graced by officials representing the host organization and JICA. During his assignment, the volunteer is expected to visit multiple schools to teach children how to separate garbage and to raise awareness about 3R (Reduce, Reuse, Recycle) through workshop with the assistance of his counterpart and relevant officials within the Kuliyaptiya Urban Council area.
Japan International Cooperation Agency (JICA) is the executing agency of Japan's Bilateral Official Development Assistance (ODA). JICA, the world biggest bilateral aid agency, works in over 150 countries and regions. In accordance with its vision of "Inclusive and Dynamic Development," JICA supports the resolution of development issues in developing countries. In Sri Lanka, Japan has been providing financial and technical assistance since 1954 and is one of the largest donors to the country. On behalf of the people of Japan, JICA contributes to improve the lives of people in Sri Lanka.