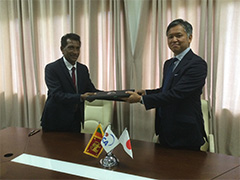 JICA and the Ministry of Agriculture reached an agreement to start the implementation phase of the "The Project for Livelihood Enhancement of Small and Medium Scale Agri Producers through Strengthening Supply Chain Structure", and Mr. Yamada Tetsuya, Chief Representative of JICA Sri Lanka office and Mr. D.M.L. Bandaranayake, Secretary to the Ministry of Agriculture signed the agreement.
This project consists of two main components 1. Strengthening Supply chain structure of small and medium scale agri producers through existing models of economic development centers and 2. Promotion of "SHEP" approach (Small Holder Horticulture Empowerment and Promotion) which was introduced by JICA Advisor Dr. Shiro Aikawa after several years of pilots, research and implementation in African region and now it became one of the best models for the small and medium scale agri-producers to improve their livelihood and social and economic status. Project will include series of technical capacity building programmes in Japan and Sri Lanka for the relevant government officers from both central and provincial governments, provision of advanced equipment as well as the project pilot activities. Comprehensive project implementation plan has been formulated by technical team of Department of Agriculture together with the Japanese experts' team and project implementation will be started from July 2022.
This project will be implemented by Department of Agriculture together with Japanese Technical Experts team in selected pilot sites of 6 districts in Sri Lanka namely Nuwara-eliya, Badulla, Matale, Anuradhapura and Kurunegala and Hambantota
Dr. Gamini Samarasinghe, Additional Secretary (Agriculture Technology) and few senior officials from Ministry of Agriculture and Japan International Cooperation Agency (JICA) were present at this signing ceremony conducted at the Ministry of Agriculture on Thursday 5th May 2022
Japan International Cooperation Agency (JICA) is the executing agency of Japan's Bilateral Official Development Assistance (ODA). JICA, the world biggest bilateral aid agency, works in over 150 countries and regions. In accordance with its vision of "Inclusive and Dynamic Development," JICA supports the resolution of development issues in developing countries. In Sri Lanka, Japan has been providing financial and technical assistance since 1954 and is one of the biggest donor to the country. On behalf of the people and the Government of Japan, JICA contributes to improve life of people in Sri Lanka.