Ms. Tanji Megumi and Ms. Numano Sayaka, the new Japan Overseas Cooperation Volunteers (JOCV) arrived in Sri Lanka on the 15th of September with the aim of providing their expertise to improve and add value to activities carried out by the Department of Social Services and Early Childhood Education Development Authority of the Northwestern Provincial Council. Over 1,100 Japanese volunteers have come to Sri Lanka within a span of 40 years as a part of JICA's on-going Volunteer Dispatch Program; and they possess a variety of skills covering several technical fields. Ms. Tanji will be helping with early childhood education based at the model pre-school in Kuliyapitiya and Ms. Numano will be joining the Department of Social Services and serving in the region of Kurunegala, promoting welfare towards persons with disabilities in the area. The strengths of JICA's volunteers are their practical approach to problem solving and the use of local languages (Sinhala) which enables them to understand and speak to the hearts and minds of local people. These volunteers not only transfer technical skills, but also share knowledge on cultural aspects, and most importantly, build strong and long-lasting friendships with local people that outlast their stay in Sri Lanka.
The new volunteers were introduced to their host organizations at an assigning ceremony, which was held at the JICA Sri Lanka Office, on the 13th of October 2022. The occasion was graced by Officials of the Department of External Resources, volunteer host organizations and JICA Sri Lanka Office.
Mr. W.M.S Mangala, Director of Technical Assistance (TA) division at Department of External Resources under the Ministry of Finance gave the following words of encouragement. "I was really happy that you two introduced us very clearly in Sinhala Language after a very short period of study. I believe that both of you will speak Sinhala very well when you finish your service in Sri Lanka. Also, I hope that you will make the most of your experience, skills, and Sinhala language, and do your best in your assignments."
As a response, the 2 volunteers answered, "The Sinhala language is really difficult, but doing our best to master the language. We would like to learn a lot from the people we will interact with. What we want to learn would be about the beliefs of education and teaching methods in Sri Lanka, social norms in raising children and about this beautiful island."
Since the inception of JICA's Volunteer Dispatch Program in Sri Lanka in 1981, a total 1,156 volunteers have worked in Sri Lanka, and their contribution towards development activities at grass-root level is greatly valued by the organizations that have received their services. After a hiatus of more than 2 years we restarted our volunteer activities in the month of August 2021 and this will be the dispatch of the 5th batch since then. Therefore, we are proud of new volunteers continuously being recruited to the country and also wish both of our new volunteers Ms.Tanji and Ms. Numano all the best of luck and success with respect to the activities that both of them hope to carry out.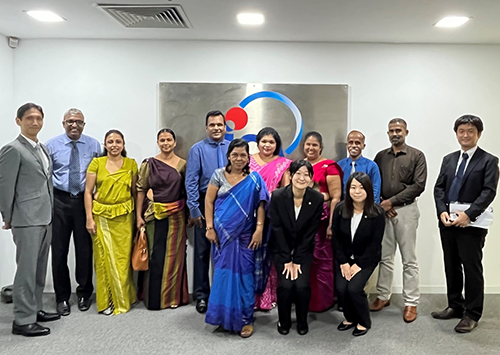 A group photo of officials from Department of External Resources, North Western Provincial Council and JICA Sri Lanka Office who attended the handing over ceremony with the two volunteers (front row, right side)